It's been a busy few days for talent acquisition technology. The week got started with the HR Technology Conference in Chicago. Today, LinkedIn Connect kicked-off in Las Vegas, and there have already been some exciting new products launches announced.
LinkedIn's new Open Candidate functionality enables any job seeker to quietly indicate they are open to new opportunities. It's a quiet on/off toggle that speaks volumes to recruiters actively looking for ways to distinguish active vs. passive job seekers and allocate time and effort accordingly. Job seekers have previously had paid options to make their search visible, but premium pricing tiers were a turnoff and visible "I'm looking" headlines or badges were a giveaway to an employee's current employer. LinkedIn members who opt-in to Open Candidates will now stand out in search and recommendation algorithms.
This new functionality will be a major win for recruiters, and a convenient way for job-seekers to stand out from the 450,000,000+  other member profiles, many of whom are not actively looking. This also introduces a new option, that doesn't require posting a resume on numerous other job boards like Indeed or Monster, which has always been a pain point for candidates. We can probably refer to these candidates as "pseudo-active" to differentiate candidates who are "passive" (not Open Candidates) and from "active" job seekers with posted resumes on other resume boards.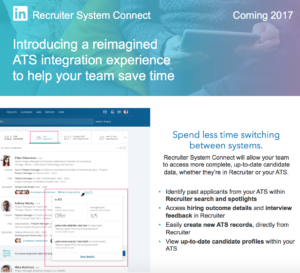 In addition to being a major blow to job boards, this simple functionality will also cause problems to many third-party sourcing tools attempting to crack the pseudo-active candidate code.
These external sourcing tools that aggregate data from the web and social profiles were building algorithms with recommendations of candidates "more likely to make a move."
Now that LinkedIn offers a simple toggle of truth, the benefit of algorithms using less accurate indicators simply become less valuable.
Not a coincidence, LinkedIn's acquisition of Connectifier in February 2016 has made it more difficult for recruiters to find a candidate's email address and contact candidates outside of LinkedIn. This has increased the value of InMail messages and the associated LinkedIn Recruiter search subscriptions that drive the majority of LinkedIn's revenue. With more attention back to LinkedIn as the up-to-date source of talent and once again the primary method of contact, Open Candidate is a well timed and smart move by LinkedIn.
Another LinkedIn announcement that will be sure to delight recruiting teams is Recruiter System Connect. ATS and Candidate Relationship Management platforms have always struggled with keeping candidate records current. Resumes quickly become out of date as candidates change jobs. Similarly, sourcing teams that seek out and contact passive job-seekers are looking for ways to easily build talent pipelines.
Because sourcing teams don't typically have a candidate's resume, LinkedIn profiles are the next best thing. An easy way to import and sync up-to-date LinkedIn profiles in a ATS or CRM will save time and and help convert passive leads to active candidates to hires.
There were a number of ATS and CRM platforms announced during the Recruiter System Connect unveiling, likely a strong differentiator moving forward when purchasing a system of candidate records.