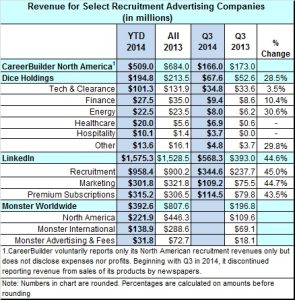 The LinkedIn revenue juggernaut rolled on over the summer, growing by 45%, with recruitment accounting for the largest share of the $568 million the company brought in from July through the end of September.
Reporting its 3rd quarter financial results after the U.S. markets closed this afternoon, LinkedIn said it earned 52 cents a share after excluding stock-based compensation. The consensus of Wall Street analysts was the adjusted earnings would be 39 cents a share. LinkedIn also beat their $557.49 million revenue forecast.
Taking into account the cost of the shares it gives employees as part of their compensation, LinkedIn lost $4.3 million, almost a million more than it reported in the 3rd quarter 2013.
The company's stock rose modestly in after hours trading, after closing up on the day to $202.90.
LinkedIn also upped its forecast for the current quarter, predicting revenue between $600 million and $605 million, which works out to between $2.175 billion and $2.180 billion for the full year.
Recruitment revenue was $344.6 million, which is 61% of the company's total revenue. For the same quarter last year, recruitment revenue was $237.7 million. By comparison, Monster brought in $393 million in the first half of this year. (Monster will report its 3rd quarter numbers next week.)
Talent Solutions customers can expect a rate increase next year, which LinkedIn executives said would be in the "mid-single digits in most geographies." CEO Jeff Weiner and CFO Steve Sardello said customers were being notified today of the increase.
The company doesn't expect to lose any significant number of customers as a result of the price increase, which will take effect for new customers and renewals after the first of the year.
Dice, the only other publicly held careers publisher to report so far, also showed increases in revenue and earnings per share.
Privately held CareerBuilder voluntarily reports only its North American revenue. However, a company official said CareerBuilder has discontinued releasing CareerBuilder Network revenue, which included revenue from CareerBuilder products sold by newspapers. These sales were previously included in the revenue number the company provided.
According to the official, "CareerBuilder Q3 North America revenue was $166M, up 5% from Q3'13, up 2% from Q2'14."