In sharp contrast to the so-so financial results of the other publicly held careers publishers, LinkedIn today released numbers so far above expectations that one news service said the results "crushes" the estimates.
Where the average of financial forecasts put the earnings per share at 30 cents on $679.8 million of revenue, LinkedIn reported earning 55 cents on $712 million in revenue. When expenses typically excluded from the earnings forecast are included, LinkedIn lost $68 million or 53 cents a share. Wall Street was expecting a GAPP loss of more than twice that amount.
The stock initially was up in after-hours trading, but gave it all back and more within two hours of the financial release.
More than half the 2nd quarter revenue came from LinkedIn's Talent Solutions group, which included $18 million from the company's $1,5 billion acquisition in May of the learning and development site, Lynda.com.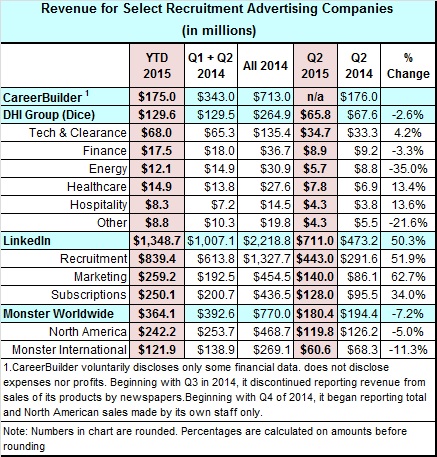 In prepared remarks accompanying the financial announcement, CFO Steve Sordello said the talent segment of LinkedIn's business grew during the quarter following a restructuring of the recruitment products sales force that took place at the beginning of the year. Sordello said LinkedIn now has 37,000 recruitment accounts.
"Our online channel is where small companies turn to LinkedIn on a self-serve basis, and in Q2 we began to achieve more stable growth. Job Seeker and Recruiter Lite subscriptions showed strength, powered by the broader changes we've made to the premium subscription platform," Sordello said.
(LinkedIn has four premium levels. In addition to the monthly subscription plans for job seekers and recruiters who don't want or need the full-featured service, there are two more plans aimed at sales people and at business networkers.)
Sordello and CEO Jeff Weiner both said the company was preparing improvements and new products to its recruitment and hiring segments that will be rolled out in October. No details were included in the financial report, but Weiner offered some hints during the Q&A conference call with analysts.
He said an improved recruiter search tool will more precisely surface relevant candidates. It will "take it to a new level," he said. Also in the works are refinements to the job and candidate referral.
Discussing the metrics, Weiner said LinkedIn membership has grown to 380 million; 10 million from China, which is the second largest market for new signups behind the U.S. Monthly unique visitors grew 16% to 97 million. Mobile, he said, grows at double the rate of overall member activity, and now represents 52% of all LinkedIn traffic.
Earlier today, Monster Worldwide reported losing $1 million or 1 cent a share in the 2nd quarter, but, after excluding certain expenses which analysts typically discount, the careers publisher earned 10 cents a share, better than Wall Street expected.
DHI Group, publishers of several niche job boards including the tech site, Dice.com, also bested analysts' earnings estimate. It reported its 2nd quarter financial results Wednesday, and said it would sell two sites it acquired in 2012.
CareerBuilder, which typically volunteers its North American revenue, has not yet provided the numbers. It's privately owned by TEGNA, the broadcast and digital company that was previously Gannett. Now exclusively a newspaper group, Gannett was spun off at the end of June.
In a press release announcing 2nd quarter financial results, TEGNA said CareerBuilder revenue had "a low-single percentage decline" in the quarter.
"The revenue decline at CareerBuilder reflects year-over-year declines in foreign exchange rates as well as the previously discussed strategic decision to accelerate the reduction of transactional advertising and focus on more lucrative long-term recurring software deals," according to the press release.