LinkedIn Groups have always felt like an afterthought. They're sort of like the guest room that gets a lot of initial attention, but sits there collecting dust because so few people come to visit. In my own experience, I've found them to be too spammy platforms for members to plug their stuff.
Facebook, in contrast, has a pretty lively solution for groups, with updates showing up in the main news feed and push alerts going out when engagement happens. As a result, LinkedIn Groups are a lost opportunity for the company to get users engaged. Lost, that is, until news broke recently that LinkedIn is finally giving Groups the attention it deserves.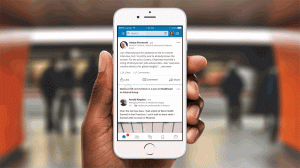 The company says it has rebuilt Groups from the ground up, making them available right in the main LinkedIn website and app. The revamped Groups product also puts content inside the main news feed, instead of tucking it away in a separate section.
Here's a breakdown of some of the new features:
Conversations: Users will now be able to post videos, images, and other rich embedded media into updates. Hopefully this will help lessen the chance that Groups become an endless stream of self-promoting article shares.
Stay up to date: Push notifications will be a thing. That means more traffic to LinkedIn, especially via mobile.
Native app focus: The LinkedIn iOS and Android app will be front-and-center for the revamped Groups. Admins will also be able to take all group management actions from mobile, such as messaging group members, accepting requests to join, or removing any posts that break group rules.
LinkedIn also teased some upcoming features that will be added to Groups in the coming months. First, users will be able to find and get to groups from the main navigation. Second, users will soon be able to start and join conversations in groups right from LinkedIn's main feed. Lastly, users will be able to discover recommended groups based on one's network and interests from the My Network tab on desktop.
All groups are being migrated automatically to the new experience, which is currently rolling out now on desktop and mobile.