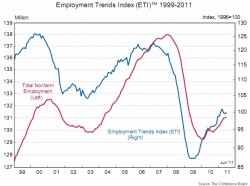 Layoff news today about Cisco and and better news from The Conference Board.
The latter says June wasn't the complete disaster it might seem from the employment numbers released last week by the U.S. Department of Labor. Unemployment may have ticked up to 9.2 percent and only 18,000 jobs may have been added to the economy, but slight though it was, The Conference Board's Employment Trends Index improved.
The .5 increase — from May's revised 99.5 to June' 100 — is due to improvement in three of the eight components that make up the Index. The decrease in initial unemployment claims filings, the percentage of firms with positions they can't fill, and the forecast of manufacturing and trade sales from the U.S. Bureau of Economic Analysis.
The Index, which was out yesterday, takes into account some of the monthly employment data from the U.S. Bureau of Labor Statistcs. But even with those lower-than-expected numbers, the Index was essentially stable. It was designed to smooth out the impact of the individual elements.
"The behavior of the Employment Trends Index in recent months is consistent with weak job growth, rather than an outright decline," explains Gad Levanon, associate director, Macroeconomic Research at The Conference Board.
However, he added this ominous caution: "The abysmal uptick in employment in the past two months is not just a reaction to the
slowdown in economic activity in the first half of 2011, but also a result of employers becoming downbeat about their hiring needs in the coming months."
Almost on cue this morning, Bloomberg News reported that Cisco Systems was likely to cut up to 10,000 jobs, with 7,000 of them coming by the end of August.If the report is true, the reduction would amount to 14 percent of the IT manufacturer's workforce.
That alone doesn't signal a resurgence of the recession, even in light of the layoff report last week from global outplacement firm Challenger, Gray and Christmas. The firm said planned layoffs in June increased over May by 11.6 percent to 41,432. It was the second month in a row that layoff announcements increased.
Still, the firm said the 245,806 planned job announced in the first six months is 17.4 percent lower than the 297,677 cuts announced in the first half of 2010.  It's also the lowest since 2000, when 223,421 job cuts were tracked between January and June.
To end this economic update on a positive note, national retail sales were up .6 percent last week over June. That beat estimates that the Johnson Redbook Retail Sales Index would show a decline of .4 percent. Seasonally adjusted sales for the week were up 5.4 percent from last year.