Expectations that the seesawing U.S. economy might be stabilizing were cruelly dashed this morning with the release of official numbers showing a mere 18,000 jobs were created in June. The unemployment rate climbed to 9.2 percent from May's 9.1 percent.
It was the third consecutive month the unemployment rate rose, while June's jobs growth was the lowest since last September when the economy lost jobs. The jobs growth was also far lower than economists had been expecting. Even the most conservative estimate pegged June's job growth at 40,000, according to Bloomberg.
Surveys by various financial services predicted that this morning's report from the U.S. Bureau of Labor Statistics would show the economy added as many as 115,000 jobs during the month. Those predictions were buoyed by yesterday's robust ADP report that estimated the economy added 157,000 private sector jobs in June.
Instead, today's report put the growth in private, non-farm jobs at 57,000 for the month. Government, at all levels, shed 39,000.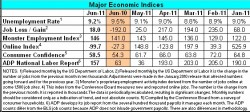 To pile on the bad news, the BLS adjusted its numbers for April and May downward, trimming 15,000 from April's previously reported 232,000 and cutting May's 54,000 to 25,000.
In addition, the government said hourly average earnings for workers dropped by 1 cent in June, after several monthly increases. The average workweek also declined to 34.3 in June from May's 34.4. Hours for manufacturing workers took an even bigger hit, declining by three-tenths of an hour to 40.3 hours during the month. Factory overtime declined to 3.1 hours from April's and May's 3.2.
The length of the workweek and overtime hours are indicators of future job growth. Before adding workers, employers increase hours of their existing workforce.
A few industries added workers. Healthcare increased by 14,000, but even that was below its 12 month average of 24,000 new jobs. The largest growth came in the professional and technical services where 24,200 jobs were added. Leisure and hospitality industries added 34,000 jobs, mostly due to summer hiring for food services, accommodations, amusement parks, and other recreation industries.
Overall, however, June saw no real improvement in economic conditions. There were still some 14.1 million people unemployed in the U.S. The number has increased by 545,000 since March. Another 8.6 million people are working part-time because they can't find anything else.
Another 2.7 million people want work, have looked for it in the last year, but aren't included in the unemployment numbers because they didn't job hunt in the four weeks before the government's monthly survey.
Within minutes of the 8:30 a.m. release of the Labor Department's report, the financial news services began posting accounts with headlines like this one from The Wall Street Journal, "Jobs Data Dim Recovery Hopes." Or this one from Forbes, "June Jobs Report Lands With a Thud."
Financial markets, which rose yesterday after the ADP report and were anticipating good news today, are now expected to react similarly. Stock futures turned sharply downward in the minutes after the report was released.
North of the border, the unemployment rate in Canada held at 7.4 percent. The economy there created 28,000 new jobs during June, three times what economists were expecting.