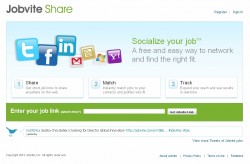 The last time I wrote about a product I found useful I got worked over pretty well. So you'll pardon me if I'm little hesitant to say much about Jobvite Share. In fact, I'm pretty sure if I say how it can help you distribute and track the results of your job postings for free (really for free), someone will cite that as proof I'm in Jobvite's pocket.
Now it's not that I don't want to be in someone's pocket. (Preferably someone with deep pockets.) Unfortunately, no one has offered. And it's cheeky, not to mention risky, to have to ask.
So it won't be me that tells you Jobvite Share has matured a lot in the two months I first saw it at the ERE Expo in March. It was pretty cool then. Now, it's even slicker. With just a few clicks you can send out a job post to your Facebook, Twitter, or LinkedIn groups. Or send it to contacts from your address-book.
But since that sounds too positive, let me note that you actually have to click your mouse to make these things happen. And Jobvite Share is useless if you have no Facebook friends, Twitter followers, or LinkedIn networkers. Or if you have no address book and no jobs to forward. (Which begs the question of why you are reading about recruiting.)
If you happen to have some or all of these, then Jobvite Share makes it easy to send out the job post and track the results. Here's an example:
You post a job and want to get it to your social and network contacts. But not to every one of them. Jobvite will let you create multiple links to the post, name them in way that best suits your needs, then send the post and the link to prospects who are a match.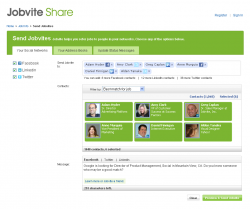 You screen your address book for the right matches yourself, but for Facebook and the other networks, Jobvite will do the screening. It will match the job location, title, and some keywords to your friends, followers, or network based on their public profiles.
Here's the downside. Jobvite Share isn't clairvoyant. So if the job post isn't very descriptive or some of your contacts have no or limited profiles, then the matching won't happen. Matching, in any case, is elemental, which might be a reason to use the status update feature built right into Jobvite Share. You can tweet, update your wall, or post to LinkedIn right from the tool.
Once the message goes out, you get to track the views, the clicks, and the applies through the Jobvite Share dashboard. The analytics may be the best part of this, since you can test the response you get from different networks and even test different types of job descriptions to see which get the best results.
You need to register if you plan on using the analytics feature. Otherwise, no record is kept of you, but Jobvite will know some details, since it's tracking where the messages are sent and how they are virally passed along.
It's an easy product to use, even if the details on the site are more like IKEA assembly instructions. In the course of a half-hour drive by Jobvite Chief of Product Jamie Glenn and CEO Dan Finnigan, I had no problem following the process. And I am often not smarter than a fifth grader.
That said, I did think to ask why Jobvite would offer such a neat tool for free. Advertising, acknowledged Finnigan,who said it more elegantly than that: "We want users from any sized company anywhere in the recruitment funnel to tap into our products."
So give Jobvite Share a try. Just don't tell anyone I said that.