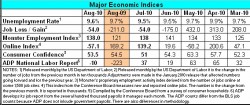 The unemployment rate rose for the first time in four months in August, while private sector employers added 67,000 jobs. Overall, the U.S. economy lost 54,000 non-farm jobs during the month, almost all of it attributable to the continuing layoff of temporary census workers.
The numbers released by the U.S. Labor Department this morning continue a pattern seen for months. The unemployment rate has moved in a range from 9.7 percent in January to the 9.5 percent it has been at since June. The private sector, meanwhile, has been steadily, if slowly adding jobs.  Government, is cutting workers.
So while the U.S. Bureau of Labor Statistics report is essentially more of the same, Wall Street is reacting positively. Stocks opened strong with the Dow zooming 100 points in the early trading. Investors appear to be looking at the half-full side of the glass.
Economists were expecting a gloomier report. Estimates varied, as they do each month, depending on what analysts and economists are surveyed; however, the job loss was anticipated to be north of 100,000.
One particularly positive sign is that the private sector number was about twice what was forecast. Following Thursday's report of fewer new claims for unemployment benefits, the second consecutive drop after weeks of gains, the improvement is at least that, an improvement.
Additionally, the BLS revised the June and July numbers downward. They now show the economy lost 175,000 jobs rather than 221,000 in June (due almost entirely to the census layoffs) and 54,000 in July, instead of the previously reported 131,000.
Private sector numbers also improved. Rather than the 71,000 initially reported for July,  107,000 jobs were added. And in June, the private sector added 61,000 jobs, versus the initial 31,000.
One reason for August's increase in the unemployment rate is the increase in people looking for work. The participation rate rose one-tenth of a percent to 64.7 percent. In August 2009 it was 65.4 percent. Workers who had quit looking for a job, and are therefore not counted as being in the labor force, are returning. The rate of increase is slow, but edging up.
Translating the percentages into numbers, the BLS said there were 14.86 million unemployed people in August. In July the number was 14.59 million. Unemployment numbers, however, tell only part of the story. In addition to those out of work, another 8.9 million in August — an increase of 331,000 over July — were working part-time because they had no other option. Another 2.4 million workers are considered marginally attached to the work force. They didn't look for work during the four weeks preceding the BLS survey period, but they wanted a job and had job hunted during the previous 12 months.
Add up those numbers and they show the depth and breadth of the recession.