Just when we were beginning to think maybe we can party like it's 1999, along comes the U.S. Bureau of Labor Statistics like an AA sponsor to tell us we lost more jobs in the U.S. economy than even the most pessimistic had predicted.
The monthly employment report says 85,000 jobs were lost in December. The blue collar industries took the brunt of the hit, losing 80,000 jobs in construction and manufacturing alone. Other losers were hospitality, wholesale trade, and government. Increases in temp help and, of course, health care, offset some of the losses.
Even so, the BLS said the unemployment rate didn't change from November's 10 percent. And tossing a bone to the economic optimists, the number-crunchers revised their November report to say the economy actually gained 4,000 jobs. The initial report had an 11,000 jobs loss for the month.
A Dow Jones survey said economists expected the report to show job losses in the range of around 10,000. Briefing.com's own survey put the predicted loss at 35,000.
There were some early hints that today's report might not be quite as rosy as economists were hoping. LinkUp, a job search engine out of Minnesota, issued a contrarian report Thursday with the gloomy headline "December Jobs Report Will Be Far Worse Than Expected." Monster's Employment Index, also out Thursday, dropped four points in December to 115.
On the other hand, the ADP National Employment Report, the Conference Board's Help Wanted Online Data Series offered hope for optimism, which I dutifully reported on Wednesday.
Now before you go all schadenfreude, you should know that the BLS regularly revises its prior two monthly reports. Today's 85,000 job loss report is all but guaranteed to be altered when the January report is released on February 5.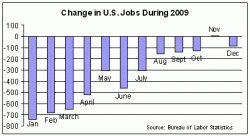 In fact, today's release contains a number of revisions, including a change to the October unemployment rate. That was initially reported to be 10.2 percent. Now it's 10.1 percent. Meanwhile, the 111,000 job loss for October was revised upwards to 127,000.
So the little dive the stock market took on the jobs news this morning was a reaction to investor surprise. If you look at the jobs trend over the last 12 months, it's clear that the situation is improving. But as a CareerBuilder report from last week suggests, hiring and job creation will be slow in 2010. Improvement in those areas won't be evidenced until sometime in the second quarter.