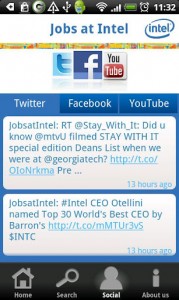 In that recent look at Intel's social media moves, I said the smart phone application for job-seekers was "still being tweaked."
The company has now launched "Jobs at Intel" for Android phones. The iPhone application will probably be unveiled in a week or two. You can get an idea of what these applications look like at the "Google play" store; in a nutshell, right now you can view videos, search for jobs, and follow Twitter, YouTube, and Facebook feeds.
If you have a Droid, you can download it on the "Play Store" icon on your phone.
Intel is talking internally about how it can improve upon and expand the application, including doing more for internal job-seekers. Intel's Keith Molesworth says it's all part of an effort to improve the user experience for people connecting with Intel on the move, an effort that includes a tablet application designed by the U.S. college recruiting team, and developed by IT. There's also a tablet app in use in Costa Rica, and mobile technology solutions in Germany and Israel.
"The app is part of our strategy to position ourselves to hire the best hardware and software talent to enable us to achieve our vision to connect and enrich the lives of every person on earth," Intel's Allen Stephens says. "Very few companies can say that."