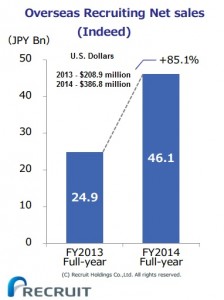 Global jobs aggregator Indeed came close to doubling its net sales revenue for the 12 months ending March 31, growing from $201.3 million U.S.) to $386.8 million (at the current exchange rate).
Indeed's revenue puts it in the same league as CareerBuilder, Monster, LinkedIn, and Dice, all of which reported significantly larger revenue, but much smaller growth rates. From 2013 to 2014, LinkedIn posted the biggest increase among the top job sites, growing recruitment revenue 47.5 percent. Indeed's growth, disclosed as part of the annual financial report of its owner, Japanese conglomerate Recruit Holdings Co., was 92.2 percent (in U.S. dollars).
Recruit attributed Indeed's growth to the SMB market, noting, "Net sales trended favorably reflecting smooth growth in service use by small and medium-sized clients."
Recruit also reported its staffing business sales grew 10.3 percent, ending the 2014 fiscal year at $5.66 billion. Recruit's international staffing sales were $2.4 billion, with the balance coming from its operations in Japan.
In the financial report released yesterday in Japan, Recruit management said the company's "long-term vision" is "to become the top provider in the HR Media operations and Staffing operations globally by 2020." Expansion will be achieved mainly through mergers and acquisitions.
Following its successful October IPO on the Tokyo Stock Exchange, Recruit Holdings and its CEO, Masumi Minegishi, detailed a company strategy to focus on the overseas HR services market, and connect it with its "Lifestyle" and "Life Events" operations.
The Nikkei Asian Review, quoting Minegishi, said the company's strategy is to grow overseas, using as much as $850 million (U.S.) of the funds it raised when it went public, and borrowing even more, to acquire companies.
That's how Recruit first entered the U.S. market. In 2010 it bought the CSI Companies, a Jacksonville, Florida, employment and staffing services firm, then bought Staffmark and Advantage Resourcing International a year later. Last month Recruit bought U.S. specialty staffing firm Attero for $37.8 million.
Recruit also this year bought two Australian staffing firms — Peoplebank and Chandler Macleod — for a combined $290 million.
While Recruit, already the fifth-largest staffing company in the world, is quickly making progress toward its staffing leadership goal, achieving domination in the HR media — job board — arena will be more challenging.
Job board consultant Jeff Dickey-Chasins said the industry is changing, with the large generalist boards like Monster and CareerBuilder broadening their product lineup far beyond posting and resume searching. CareerBuilder, in particular he noted, is "making a pretty big shift in becoming a cradle-to-grave HR supplier."
Indeed, however, has not much evolved beyond its early business model as a jobs aggregator. The bulk of its sales come from pay-per-click advertising. From a consumer point of view, says Chasins, "It's sort of a flat product."
It also has plenty of competition. There are at least two dozen other job aggregators, including SimplyHired, Indeed's closest competitor in the category. In the past two years, Monster and LinkedIn have begun to also aggregate jobs, intensifying the competition and accelerating the commoditization of job postings.