Academia is getting into HR tech development.
Two professors and an administrator at Temple University business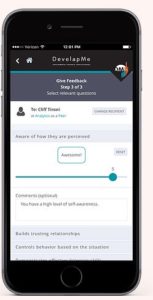 school have come up with DevelapMe, a performance management app. Not to be confused with Develop.Me, which is a performance management app for churches, the secular DevelapMe is one of the growing number of tech alternatives to the annual performance review. Like most of the other apps, it encourages real-time feedback and competency ratings, but better than some, DevelapMe is customizable to fit each organization's needs
How did we hear about this? Temple's Fox School of Business sent out a press release announcing it has begun using the app in its MBA curriculum. What the school did in the Fall semester was to assign some 50 MBA students responsibility for a team of six freshmen business students during a six-week business project. That happy 8-to-1 ratio yielded more than 25,000 data points and 2,800 comments, and, said the school, improved the leadership ability of 65 percent of the MBA students.
Talk to the Chatbot
Bots are another of the other emerging HR technologies. Recruiting is one of the earliest areas where chatbots are being deployed, and among the many folks getting into the bot business is Doug Berg, of Jobs2Web fame.
"Chatbots are a much better way to capture initial-location based talent interest versus hoping people will go to your career site," Berg says. "People are much more inclined to have an instant chat conversation that will help capture their interest and start the recruiting conversation versus hoping they will go to a website that might not be mobile-optimized, forcing them to search for jobs or find something short of applying for a job which doesn't exist on most career sites."
Here are some of the other things we're hearing: