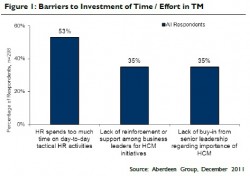 What's surprising about a new analyst report from Aberdeen is that in 2012 HR professionals still need to be reminded that talent management is as much a strategy as a tactic they should be captaining.
"HR still struggles to become a 'strategic partner' with the business, engaging employees and aligning integrated talent management initiatives with overall organizational goals," write the authors of an Aberdeen Analyst Insight about developing a "Talent First" culture.
Drawing  from an upcoming Aberdeen report, analysts Madeline Laurano and Mollie Lombardi say HR's day-to-day work and the lack of support and buy-in from other business leaders and senior management stand in the way of developing the strategic approach that HR leaders say must be a part of their skill set.
Yet there's some sort of disconnect here. The analysts note that in Aberdeen's Quarterly Business Review, the 1,300+ business leaders in the survey named workforce and talent concerns in half of their top 10 business challenges. However, 35 percent of the HR leaders participating in the forthcoming HR Executives Agenda 2012 complained of a lack of buy-in from their senior management.
Integrated talent management will help with this, say Laurano and Lombardi. "An integrated approach to talent management can help organizations carry out key talent initiatives that will benefit the business," they write, citing evidence from "Best-In-Class" companies. These are the top 20 percent of scorers on three Aberdeen metrics: Employee engagement, bench strength, and hiring manage satisfaction.
This Best-in-Class group reported improved retention, high employee engagement, and achievement of key performance indicators. Overall, 70 percent of the group credited their integrated approach to talent management with achieving organizational goals.
As the authors note, "integrated talent management is not a new phenomenon." Fine-tuning recruiting methods to the performance of workers three months, six months, even a year after hire has been going on for years. Projecting worker and skill needs into the future, based on company growth, workforce demographics, competition, and so on, and then using that intelligence to plan recruiting, is much more recent, yet hardly brand new.
These examples are part of the drive toward developing a unified approach to talent within a company. Many, note the authors, have "succeeded in breaking down traditional HR silos."

"Without integration," they add, "HR operates in one department, rather than spanning the entire organization."
In many ways technology can hasten the integration. Besides shifting paperwork to managers or to the employee themselves, and thus freeing HR for more strategic work, it brings to line managers information once available only in HR.
Integrated talent management technology isn't the determinant of a "Talent First" culture, but it does make big-picture viewing easier, and sometimes even possible. "Analytics matter," say Laurano and Lombardi. Technology makes it simpler to access the data that leads to business insights.
"Organizations that integrate talent data with business data are three-and-a-half times as likely to achieve Best-in-Class as those that do not integrate data," they write.
How should HR move forward in its quest for integration putting talent first? By first eliminating the silos and integrating management processes, while focusing on improving employee engagement. As the company becomes more sophisticated about talent management as a critical business strategy, the authors say talent management must be tied to business goals, progress has to be measured and success defined.
To reach Best-in-Class status, analytics have to be a priority. "An HR professional today must keep analytics as the backbone of any talent management strategy," conclude Laurano and Lombardi. "Analytics will help HR gain support for integrated talent management, and improve the reputation of HR throughout the organization."