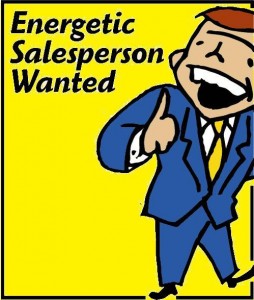 Recruiting successful sales people is one of the biggest challenges facing employers today.
As the economy continues to improve, sales professionals are more in demand than ever. So working with a specialist sales recruiter is one of the most effective ways of competing for the top talent.
But don't take our word for it. Here are six signs that you may benefit from working with a specialist agency for your next sales vacancy:
1. Staff Turnover Is Too High
Sales jobs naturally suffer from higher turnover than other roles, but if your turnover rate is 40% or above, something in your hiring process isn't working. A specialist sales recruiter will identify the reasons for your poor retention levels and offer solutions – as well as providing a shortlist of sales people more suited to your culture.
2. The Candidates You Source Aren't the Quality You Want

The fact is that top sales candidates rarely apply to conventional job postings as their talents and skills surpass the norm. A specialist recruiter will provide prequalified candidates with a proven track record. These professionals aren't actively browsing job boards because they are very successful in their current role. Quite frankly, they don't need to.
3. Your Sales Department Fails to Achieve Its Objectives
The best sales departments arise from a combination of individual skills and team work. Constant change in team members will inevitably affect team morale. On top of that, spending time constantly training new hires will result in a loss of momentum in your existing team. Working with a sales recruiter will dramatically reduce your turnover rates and improve productivity.
4. Your Internal Recruiters Are Generalists
It's a fact, not a criticism; internal recruiters are hired to recruit across the board. They are used to active candidates with relevant experience responding to their job postings. Successfully recruiting talented sales people requires a different strategy taking into account their aspirations, achievements, what they can bring to the employer – and what the employer can offer them. A specialist recruiter understands the process and responds quickly to client needs.
5. You Lose Candidates During The Hiring Process
Great sales people have options. As hiring strategies become more aggressive, the best candidates are often lost during a prolonged process or by the employer's failure to offer a competitive package to their preferred candidate. A specialist recruiter will offer advice on the appropriate blend of comp and benefits to attract and motivate top talent – and will facilitate the smooth running of the hiring process.
6. You Aren't Sure Where To Begin
A specialized sales recruiter works in your sector, they network daily with the movers and shakers of your industry. Their approach is pro-active, they get straight to the heart of the search, looking for self-motivated, confident candidates with the desire to succeed and an ability to network. They have a honed interview technique and a proven track record of placing sought after candidates who stay with their new employer.
What have you got to lose? If your sales team is not achieving the success you believe they should be, contact a specialist sales recruiter today.