We've heard it all: AI will take over the world and eradicate mankind.
What if we are the robots?
Over the last century we certainly have been busy rationalizing the "human" out of human resources.
Paradoxically, our humanity, and more specifically our ability to empathize, be creative, and solve complex problems will remain our competitive advantage for the foreseeable future.
How Might We Re-humanize Talent Acquisition?
I have been pondering this question for a while, but it wasn't until I collaborated with a client's Innovation Lab on a talent-acquisition strategy project two years ago that I had a eureka moment.
I don't easily buy into the latest fads and trends, but I know a good thing when I see it. I realized that design thinking (also called human-centered design) had the potential to transform how we interact with our employees and inspire how we go about talent program design and implementation.
Since then, I have become a student and teacher of design thinking, partnering with the design thinking firm IDEO and Northwestern University's Masters in Learning and Organizational Change Program which explores how design thinking might be applied to innovation in organizational effectiveness.
This past summer I decided to research the question:
"How might we apply design thinking in the field of talent acquisition?"
Thirty-one talent-acquisition leaders participated in this research, representing organizations including Amazon, Allstate, Heinz Kraft, Sodexo, and United Airlines. I also led a webinar on the topic with members of the Association of Talent Acquisition Professionals (ATAP), which provided additional insight.
Before we jump into the findings, let's take a step back: What is design thinking anyway?
Design thinking is a set of human-centered methods and mindsets used for complex problem solving and driving innovation.
There are three main steps in the design thinking process:
Step #1: Discovery (methods include "how might we …" problem statement definition, persona identification, and experience mapping)
Step #2: Ideation (methods include brainstorming, clustering, and idea poster creation)
Step #3: Prototyping (methods include storyboarding, prototype building, and user testing)
My qualitative research revealed that talent-acquisition leaders are most familiar with ideation techniques and least familiar with prototyping. This is not a surprise. "Brainstorming" is ubiquitous in corporate jargon these days. Prototyping and testing however are less familiar concepts, especially when applied to a talent experience design context.
How have talent-acquisition functions used design thinking?
Based on my research, most (55 percent) have not yet used design thinking at all. Several others have started to experiment with parts of the design-thinking process (35 percent). The remaining 10 percent have used design thinking as a way to solve problems in talent acquisition and to craft impactful candidate and hiring manager experiences.
When asked what barriers they encountered when trying to implement design thinking, most respondents listed "a gap in understanding of how design thinking might be applied to talent acquisition."
When asked what talent-acquisition leaders would want to apply design thinking to, the top areas were Talent Acquisition Strategy and Candidate Experience Design.

Source: "Design Thinking for Talent Acquisition Starter Kit"
These are big topic areas. I usually recommend to break them down into more manageable components.
One component challenge could be: "How might we re-imagine job descriptions to increase job/fit accuracy?"
I recently used this opportunity statement as part of a virtual ideation slam with members of our "Designing for Talent" Slack community.
We used virtual collaboration and ideation tools to capture research, insights, and ideas, both during virtual meetings as well as in between sessions.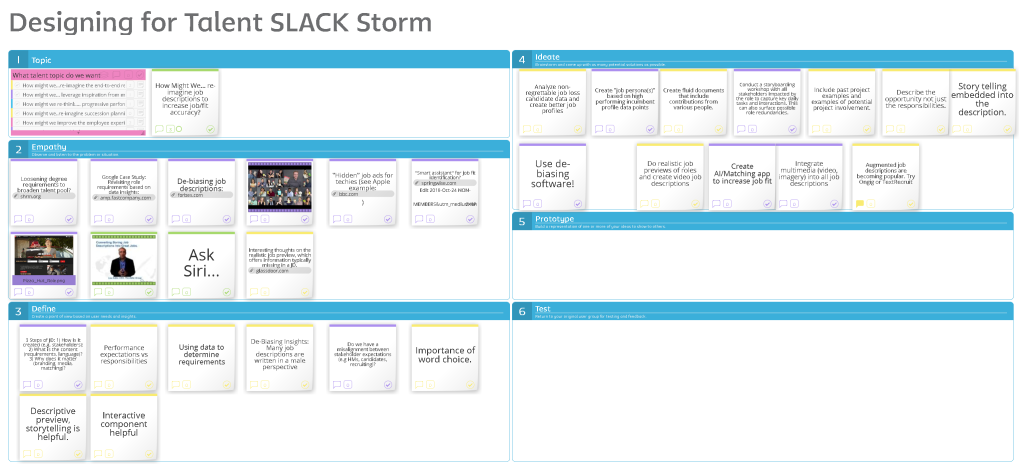 Source: "Designing for Talent" Slack Community
Here is a sampling of some initial insights and ideas we came up with:
We concluded that there are three key parts to creating a better job description.
How is it created?
Data-driven — e.g., create "job personas" based on high-performing incumbent information to surface which requirements are actually needed to succeed in a role.
Stakeholder-centric  — e.g., conduct a storyboarding workshop with all stakeholders impacted by the role to capture key daily tasks and interactions. This can also surface possible role redundancies.
What content is included?
The what — e.g. highlight the opportunity and performance expectations, not just responsibilities.
The how — e.g. use storytelling and de-biasing software to describe the role.
Why does it matter to the applicant?
Visualize context — e.g., use interactive elements, video, and imagery to provide a realistic job preview and to highlight the company's unique culture. Imagine you are the candidate and ask yourself, "What would I want to know about this job and the company to decide whether I'd be a fit there?"
Matching — e.g. create augmented job descriptions using AI-based matching technology (there are services that can modify a job description based on who views it).
This example is a very simplified version of ideation but I wanted to highlight it to show that you can start with small experiments like this and work your way up to more comprehensive projects.
Design thinking is a skill that is best honed in an experiential way.
It is also a method that supports experimentation, iteration, and failure.
Baby steps are OK. You just have to take the first one.
Your turn: How have you used design thinking in talent acquisition? What lessons have you learned? What impact have you seen? What barriers did you encounter along the way?