In August of 2010, DHI Group, owners of job boards like Dice, ClearanceJobs, and eFinancialCareers acquired a company called Rigzone, a job site specializing in the energy industry. At the time, company head Scot Melland said, "The acquisition of Rigzone extends our capabilities and strengthens our position in the highly attractive energy vertical."
Rigzone founder David Kent, now 41, who launched the company back in 2000 and would eventually sell for an estimated $51 million, said at the time, "The Dice team has the strongest vision for the future direction of online recruiting, while recognizing the value of our unique and valuable content. We are truly excited about working with our colleagues from Des Moines to Dubai connecting top talent with organizations that are tackling the energy challenge."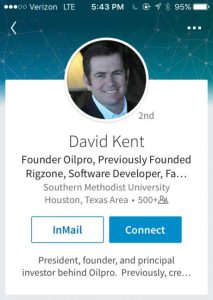 Ah, the days when niche job sites could sell for $50 million, huh? Interestingly, DHI's entire company, which is public, is now valued at just over $100 million, or roughly the value of two Rigzone's in 2010. But I digress.
Happily ever after? Not so much. You'd think the payday would be enough for Kent to ride off into the sunset, or at a minimum, stay out of trouble. Alas, you'd be wrong. Here's what happened next. After selling Rigzone to DHI, he continued to serve as president before departing Rigzone in September 2011. In October 2013, Kent launched a competitive site called Oilpro.com, which also services the oil and gas professionals.
Oilpro.com no longer exists, and there's a good reason for that: Kent stole from DHI Group. In 2016, he pled guilty to stealing more than 700,000 customer accounts from Rigzone's database, then — and here's where it gets really stupid — trying to sell Oilpro.com to Rigzone's parent company, DHI Group. Let that one sit for a bit.
Anyway, from October 2013 to February 2016, Kent conspired with a former employee, who still had backend access to DHI accounts, to access data without permission and forwarded that information to Kent. Not sure if he thought DHI was too dumb to catch on, or if he was just plain stupid, but either way, the Feds came callin'.
After about a year of churning in the U.S. justice system, this real-life "dramedy" that would make a good Seinfeld episode has come to an end. In a release dated Oct. 7, 2017, Kent was sentenced in a Manhattan federal court to one year and one day in prison for intentionally accessing a protected computer without authorization.
In his sentencing, the judge said, "This was a betrayal of trust, a breach of loyalty, and a level of deceit and dishonesty that was very sad and disappointing." His statement echoed FBI Assistant Director William F. Sweeney's comments in a Dec. 19, 2016 press statement that the case serves "as a stern reminder to others that unauthorized access to a computer is a federal crime with severe penalties; even just a quick look at the data on the computer can lead to a prison sentence, and that never leads to a leg up in business."
So, selling his company for a bucket of money wasn't enough. Launching a competitor a few years later wasn't enough. Stealing 700,000 records from the company who gave him that money wasn't enough. No, Kent then had to sell another energy job site to the company who bought his first one. Hubris or stupidity? You decide.
On Oilpro's about us page in 2014, Kent was described as "a passionate software developer and entrepreneur addicted to dreaming up new ideas, programming, and working with A+ talent." Well, he'll have a lot of time to dream up some of those ideas of his behind bars.