Of the three solutions Google launched targeted at helping job seekers and employers come together, the job search API, dubbed Cloud Talent Solution, gets the least amount of publicity. Google for Jobs, the company's answer to Indeed, and Hire by Google, its answer to the ATS market, in contrast, grab more of the headlines.
Cloud Talent Solution, the technology that lets job boards and employers plug Google's search technology into their websites, is apparently no less important, and as this week's news release highlights, is not coming up short in the development roadmap.
I first wrote about Google's product back in 2017 when early adopters like CareerBuilder and Johnson & Johnson were using the technology. Then-CareerBuilder CEO Matt Ferguson said at the time, "CareerBuilder will be able to layer our rich domain expertise over Google's extensive search capabilities, opening the door to new efficiencies and opportunities for our business, clients, and users. Working with Google will give us the backend framework that we can leverage as we accelerate our transition into a global HR software as a service provider and build our ecosystem."
In those early days, Johnson & Johnson touted an 18 percent increase in job applicants per search and a nearly 25 percent increase in clickthrough rate on its career site.
Today, the list of adopters has grown, with names like SmashFly, College Recruiter, Phenom People, and Symphony Talent using the technology to put their job search technologies in the hands of Google. And good for them, Google keeps rolling out the enhancements.
First up, job seekers can now get detailed commute information when doing searches. For years many job boards have been delivering search results based on proximity to the user, but this regularly falls short of helping candidates determine commute times. Five miles in San Francisco, for example, is not the same as five miles in, say, Cleveland. College Recruiter has been using the technology for awhile now, and president and founder Steven Rothberg speaks favorably about the upgrade.
"When you currently go to College Recruiter and run a search, alongside the results are now the 10 jobs that match your interests and a map," said Rothberg. "That map will have a pin for each one of those 10 locations, and users can then change search defaults. You can say, 'Here's my address.' It might be where your apartment is or the location of your last class of the day."
Users can filter searches to show only the jobs that are within, say, a 10-minute walk, or a 30-minute bicycle ride. Then the search results will update and the pins will update in real time.
In addition to commute information, Cloud Talent Solution has also updated its product to provide translation solutions for up to 100 different languages. Now, job seekers can see jobs in the language they searched, as well as jobs in English. For instance, if someone searches for a job by using the word "enfermera," which is the Spanish word for "nurse," they'll get results in English.
Here's a screenshot of the example.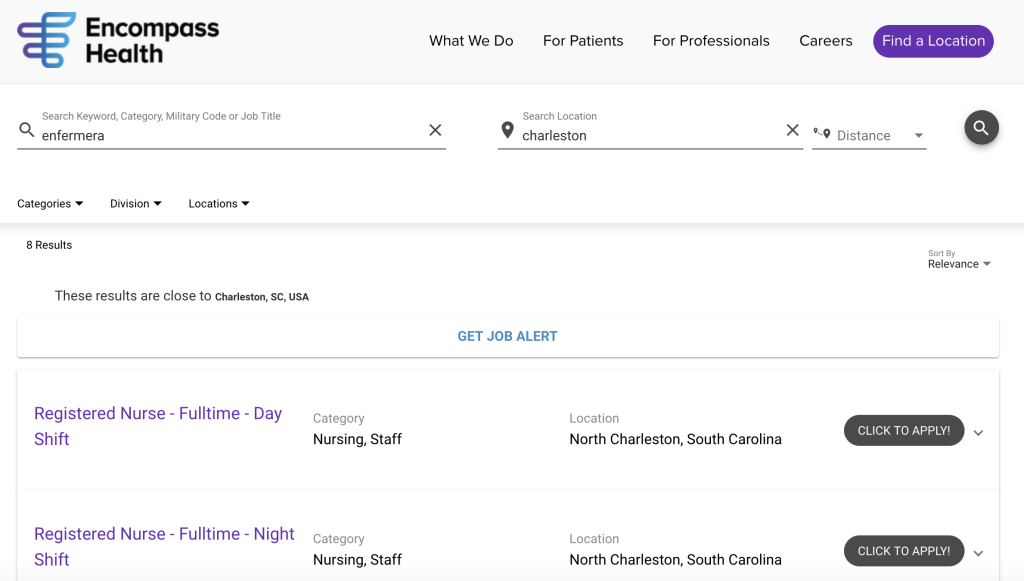 Google says companies are constantly looking for new ways to reach a larger talent pool, and every job seeker has their own unique job search and employment needs. This update will apply Google Cloud AI capabilities to helping companies provide more relevant job opportunities to a wider candidate base.
More than 4,000 sites are currently using Cloud Talent Solution to power their job searches. Pricing starts at free for sites with fewer than 10,000 searches a month to custom pricing for those with more than 10 million searches monthly. In between, you'll pay anywhere from $3 – $1.50 per 1,000 queries, by monthly usage.
Google will be talking in depth about its employment-related solutions as Cloud Next '19 in San Francisco, coming on April 11.