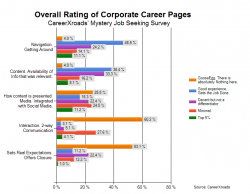 Charlie Brown never got much respect. Not from Lucy, who when she wasn't snatching the football away at the last minute, was making fun of his pitching skills, nor from the Little Red-Haired Girl, with whom he was so infatuated.
Now, as it turns out, Charles Brown doesn't get much respect from Fortune's 100 Best Companies to Work For. Out of his 100 applications for a job as a marketing manager, the Charlie Brown of our story has no idea where he stands with six out 10 of the companies.
Six weeks after applying, Charlie heard directly from only 28 companies that he isn't getting a job. Seven more gave him a reference number, but despite having an MBA from Michigan and BA in mechanical engineering, Charlie didn't know what to do with it. Three companies allowed him to check his status through their website. One — REI, the outdoor company that has been on the 100 best list for years — actually gave him a call.
As the other Charlie Brown would say, "Good grief."
Charlie the job seeker (he's Charles only to Marcie and Eudora), is a creation of the recruiting consultancy CareerXroads, springing from the fertile imaginations of partners Gerry Crispin and Mark Mehler. Annually, the two talent acquisition consultants conduct a mystery shopper-like survey of the application process of the 100 best companies. These companies are picked because, as the resulting report released today explains,
CareerXroads considers these companies more likely than others to follow the best recruiting practices; if they aren't, it's a good indication that the majority of firms are not measuring up.
How did they measure up?
Better than 10 years ago when CareerXroads started doing this survey, but still not good enough in the opinion of the authors. In detailing what the volunteer crew of professional recruiters discovered during the online application process and its immediate aftermath, Crispin and Mehler summed it up in this way:
Brown did find improvement in the 10 years since CareerXroads introduced this annual survey. All but a few companies acknowledge receipt of a job application. Yet he also discovered that too many organizations:

Provide insufficient information about jobs and their corporate cultures.
Fail to make the application process user-friendly by not allowing job seekers to upload information in an easy, logical manner.
Besiege candidates with irrelevant questions.
Require candidates to take 10 minutes or more to apply for an opening.
Just finding their way around the company career site took some doing. Only about a third of the firms were found to have a simple, "instinctive" connection between the home page and the career channel. At three of the sites, Chuck never did find the company career site.
When he did manage to get to the jobs listings, Charlie discovered that 13 percent of the sites didn't provide for a click from the job description to the application. However, when he did finally apply — a process that in several instances took more than a half-hour — Charlie Brown usually got at least a confirmation.
Application experiences like the ones the fictional applicants of CareerXroads have endured prompted the creation of the Candidate Experience Awards a few years ago. Spurred by Chris Forman of StartWire, he, Crispin, Elaine Orler, and Ed Newman formed the Talent Board, which sponsors the annual award recognizing companies that meet a standard of candidate experience excellence.
Besides recognition, the CandE Awards "enable ANY company to benchmark and improve their candidate experience."
Considering the job seeking experience of Charles Brown, there's plenty of room for companies to improve.
Overall, say Crispin and Mehler, in their report,
The improvements noted over the past decade have been small and incremental, not sweeping. Too many companies continue to treat job seekers like yesterday's stale bread. They are secretive with information, indifferent to candidates' needs. This is instead of creating welcoming experiences whose benefits are twofold: a higher likelihood of adding productive employees and enhanced employment brand.