Glassdoor is $12 million richer this morning, following a third round of venture financing that brings the total for the employer review site to $22.2 million.
Launched in June 2008, the site today gets about 3.5 million unique monthly visitors who check out the reviews of some 110,000 companies. Most are U.S.-based, but the site has been expanding globally and now has data on companies in 100 countries.
Some of the new investment will be used to grow internationally. The company says 20 percent of its traffic comes from outside the U.S., principally from Canada, India, United Kingdom, Australia, and Singapore.
Glassdoor says it will also be investing in additional employer data and advertising technology.
The site caught the social media wave, using user-generated reviews of their jobs and employers (or former employers) to create ratings and provide employer-specific salary information. Everything is anonymous, leading early critics to complain that the site would be dominated by malcontents and bitter former employees seeking revenge. There's some of that, but a significant number of reviews — perhaps the majority — appear balanced.
Even a company with a notorious HR reputation such as American Apparel manages a 2.8 rating on the five point rating scale.
To post a review, or to gain access to all the content, users have to sign up with a real email address.
Over its almost three years of life, Glassdoor has broadened its offerings from basic reviews to salary information, reports on interviews, interviewers, and what's being asked, and available jobs. According to the company, it has data on 100 percent of the companies in the Dow Jones Industrial Average, the Fortune 500, and the S&P 500.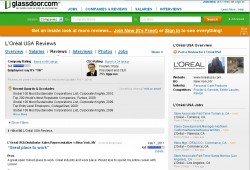 Demonstrating the acceptance (willingly or otherwise) companies now have of social media, Glassdoor began selling Enhanced Employer Profiles. Starting at $495 a month, these give companies the opportunity to tell their own story with text, pictures, and video, and to post open jobs. Employers can also get a free account that offers some limited opportunities to add content to its profile pages.
"Job seekers and employees have a hunger for all sorts of job-related data yet, until Glassdoor, it was hard to find basic salary details or information about the work environment on a per-job, per-company basis. Since we launched in 2008, we've seen demand for the jobs and company information we collect accelerate," said Robert Hohman, Glassdoor co-founder and CEO.
The funding round was led by Battery Ventures with participation by existing investors Benchmark Capital and Sutter Hill Ventures