Described as "damning," "scathing," and "brutal," a Forrester report says Facebook is all but useless as a marketing tool, bluntly declaring "Facebook is failing marketers."
"Don't dedicate a paid ad budget for Facebook," advises Forrester. "Marketers tell us Facebook ads generate less business value than display ads on other sites. It's time to make decisions based on facts, not on faith or fascination. You're just buying display ads!"

In a blog post addressed to Facebook CEO Mark Zuckerberg, the author of the report says,"While lots of marketers spend lots of money on Facebook today, relatively few find success… Facebook ads were less valuable than any other marketing tactic (marketers)  could use on your site."
Written by Nate Elliott, Forrester vice president and principal analyst, the report is based on surveying 395 marketers and eBusiness executives at large companies across the US, Canada and the UK. "And these executives," writes Elliott, "told us that Facebook creates less business value than any other digital marketing opportunity."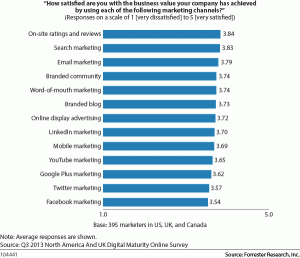 Despite the dramatic pronouncements, Forrester's score sheet puts Facebook behind top-ranked Google by only .3 points. Google scored 3.84 (out of 5) in satisfaction with the business value it provides marketers. Facebook, which came in at the bottom, got an average 3.54.
Noting that it has "a million active advertisers," Facebook labeled the report illogical and irresponsible. In an email response to Business Insider Facebook said:
While we agree that the promise of social media is still in process, the conclusions in this report are at times illogical and at others irresponsible. The reality is that Facebook advertising works.
Standing with Facebook, Webush analyst Michael Pacther told MarketWatch, "The 'social' promise of Facebook suggests virality, and that is secondary to most marketers. Rather, targeting is what they care about most, and Facebook gives them that in spades."
Ratko Vidakovic, marketing director at online ad buying platform SiteScout, defended Facebook saying, "There is a heavy social component to Facebook ads, making them far more effective than traditional display ads… The quality of its targeting data is top notch."
Some of Forrester's harshest criticism was directed at company and brand pages. Calling the format of these pages "unloved," Elliott complained in his blog post, "Everyone who clicks the like button on a brand's Facebook page volunteers to receive that brand's messages — but on average, you only show each brand's posts to 16% of its fans.
"Your company," he told Zuckerberg, "focuses too little on the thing marketers want most: driving genuine engagement between companies and their customers."
Facebook's stock price dropped Monday after the report and blog entry were posted. Today, the stock hit a low of $49.27 before recovering and going up just above $50.40 in early afternoon trading in New York. Facebook is scheduled to report its third quarter results tomorrow after the market closes. Analysts expect the company to report earning 19 cents a share on revenue of $1.91 billion.