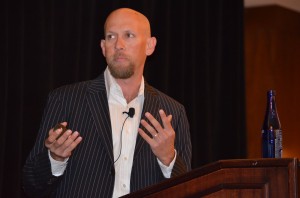 Million dollar biller and Pinnacle Society member Jordan Rayboy, founder of Rayboy Insider Search who may be even better known for building his 7-figure firm while traveling North America in an RV, shared his secrets for running a successful firm while taking weeks — 21 weeks last year — of vacation.
Rayboy, though, joked that he never  says he's on vacation,since, as he said, "When you're always on vacation you're not on vacation." Priming the audience during his general session this morning with pictures of some of the spectacular scenery at places he's stayed, Rayboy confessed that when he works — and yes, he takes and makes calls when he's "on vacation" — requires focus, commitment and hard work.
If takes 90% of your effort, Rayboy said, get to the point where you can play, even if you don't take 23 days in Europe at one shot, or go camping in Canada's national parks for six weeks at a time. Discipline is critical; Rayboy says it takes up to six hours on the phone, and three or more hours planning every day while building the business. Baking the cake, he called it, so that later, when the key accounts have been developed, the brand established, the staff trained, and the processes set in motion, you can eat that cake.
Whether or not you want to make that kind of commitment or seek the same kind of lifestyle, Rayboy's tips about planning only during planning time, and working the phone only during phone time are valuable reminders about how to be productive producers. If there was one, overarching theme — besides his declaration that "life should be for living" — it was build relationships with all the key accounts. You do that, he said, by:
Work with people you like.
Connect with the people above, below and in positions lateral to that of your initial client contact.
Meet clients face-to-face.
Always thank clients for their business. Rayboy has fine wines privately labeled with his company name and brand, which he sends to hiring managers and others.
Obtain and post testimonials from clients and from candidates.
Keep in touch with clients at least quarterly.
Do some things for free.
Now, here are some other tips from day one of the Fordyce Forum.
Mike Gionta: Do things differently from other recruiters so you don't sound and look like everyone else to clients. For instance, quote fees in fractions. Instead of 25%, try 27.5%, explaining that the effort required to find top quality talent is taking more time and becoming more expensive. This way, he said, when the fee negotiations begin, the discussion is in 1 or 2 percentage points, not in the 5 point increments.
Another tip: If you find yourself talking more than asking questions of your client, you're doing it wrong.
Jackie Nabat: As soon as you contact a candidate and ask them to update their resume and send it to you, most will then become active. "The minute they put together their resume they start looking, even if they weren't looking before you called them," she said. So act fast. Dig deep. Ask lots of questions of your prospect. Be sure to ask for referrals at every stage, especially when they accept the offer, and keep in touch right through the onboarding and then every few months thereafter; always asking for referrals. And, when you find you can't reach them, text. "Texting is the absolute best form to use."