Back in February, Facebook introduced the ability to post jobs on through company Pages.
"Beginning today, businesses in the U.S. and Canada will be able to post job openings, and their future employees will be able to easily find those posts on their Page or in the new jobs bookmark," Facebook said in a launch-day release. "This new experience will help businesses find qualified people where they're already spending their time — on Facebook and on mobile."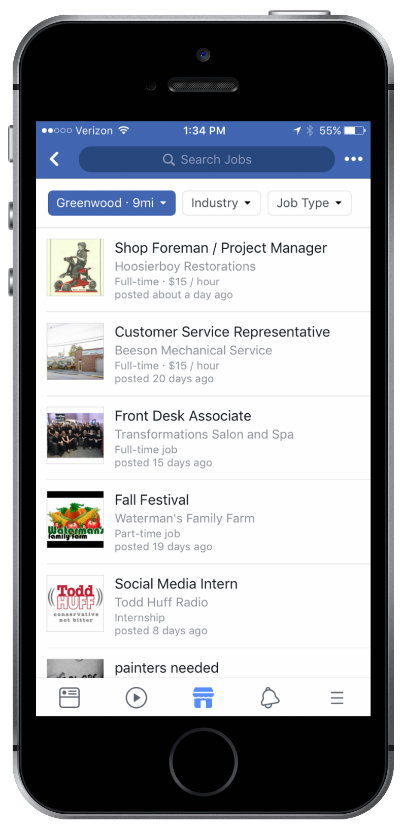 October of last year, Facebook launched Marketplace, a way for users to sell stuff via the company's popular mobile application. "Facebook Marketplace lets you browse a relevancy-sorted feed of things to buy from people who live nearby, and quickly list your own stuff for sale," TechCrunch said in a review. "Integration with Facebook Messenger lets you haggle or arrange a meet-up, and you know more about who you're dealing with than on anonymous sites like Craigslist thanks to Facebook's profiles."
Both offerings had to eventually hook-up, right? Yup. Facebook is now rolling out a Jobs link within its Marketplace for mobile users in the U.S., Canada, and Mexico. The content is currently being pulled from jobs posted via company Pages.
Till this move, job postings were relegated to only being found if a user actually went to a company Page where the job was posted. Users might also see a job posting if they followed a Page or saw an advertisement promoting a job opening.
This latest move puts job postings within Marketplace, which represents a significant increase in eyeballs. Mobile numbers in North America are a tough to nail down, but looking at Facebook's advertising manager, eyeballing traffic at around 100 million monthly active users isn't a stretch.
At that number, if just 5 percent visit Marketplace, then we're talking about 5 million visitors each month. And if 10 percent of that visit the Jobs section, that puts the number of job seekers at around 500,000 per month. Five-hundred thousand isn't going to keep anyone awake at Indeed or LinkedIn, but it's not a bad start.
Facebook's next move, however, might move the needle quote a bit more. According to a post on Recode, Facebook will start pulling in content not posted directly on Facebook. The publication said, "Until now, Facebook has limited postings inside Marketplace to individual users, not business Pages. But that's changing as the company expands into more areas. Facebook hopes to learn what kinds of stuff people want to find inside Marketplace, then push deeper into those areas."
The story goes on to outline how Facebook may soon feature cars for sale inside Marketplace from local car dealerships, and that it also plans to do the same with real estate listings for apartment hunters. If Facebook starts aggregating classified listings from car dealers and apartment listings, it's not unreasonable to think job postings from sources outside of Facebook would follow.
If Indeed and Google for Jobs aren't yet considering Facebook as a potential competitor in the vertical job search space, it's safe to say now is a good time to start. The fact that Facebook's nearly two billion users may eventually leverage data in their profiles to apply to jobs means LinkedIn should take serious note too.