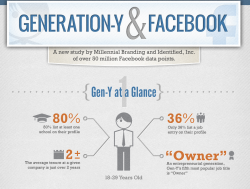 Gen Yers aren't specifically using Facebook for business, but with an average of 700 "friends" and a propensity to change jobs after two years, the lines between social and business are so blurred they aren't even aware it's happening.
Data out this morning from a study of Facebook's Gen Y members (18-29) shows that, on average, each has 16 co-workers as friends. While the average is skewed by those who have many more, the study found that half have more than five workers as Facebook friends.
What's the significance?
"When they go home," says Gen Y branding guru Dan Schwabel, "they are still connected to the workplace… Their co-workers are their friends. And because people change jobs so often and have so many friends, their friends become co-workers."
Ironically, Schwabel says, most Gen Yers aren't intending for Facebook to be a business tool; 64 percent of them don't bother to list a single employer in their profile.
That's why, he says, Facebook is "inadvertently a part of their business life."
His company, Millenial Branding, analyzed data from Identified.com uncovering the inadvertent consequence of friending co-workers. While BranchOut and Monster's BeKnown are intentional business networks for Facebook users, at least for Gen Y business networking is occurring on the mainstage.
Another key discovery, says Schwabel, is how few Gen Yers work at large companies. Only 7 percent of those listing a job currently work for a Fortune 500 firm.The largest share (7.2 percent) work in the hospitality and travel industry, and 2.9 percent give their job title as "server."
However, ranking 5th among titles is "owner," suggesting, says Schwabel, that Gen Y workers are entrepreneurial. For recruiters looking to hire Gen Yers, the implication is clear. "Large corporations need to rethink their corporate recruiting strategy," he says. " Companies have to be more flexible and give Gen Y more control over schedules, and their work."
The best way to reach a Gen Yer, he says, is through their friends or by friending them directly. Don't message them until you are a friend, he recommends. "They don't think of Facebook that way." Referrals by friends are the best way to reach out. "They trust their friends. They listen to their friends."
Schwabel also had some counsel for his Gen Y peers — advice anyone with a workplace friend should keep in mind: "Be careful what (you) say. It could be the office gossip next morning."