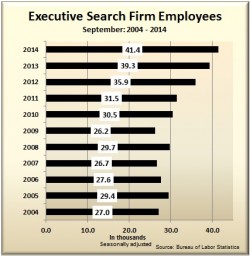 Only a few years ago, in-housing executive search was a hot topic. Bring it back inside, assign high-level searches to one person or a team and you save tens of thousands or hundreds of thousands of dollars, was how the thinking went.
How many companies actually did this is hard to tell. Judging, though, from the numbers being reported by the public search firms and the Association of Executive Search Consultants, among others, executive search is having a great year, possibly its best year ever.
In 2013, companies reported that 5.9 percent of their external hires were sourced by search firms. That was almost double the 2012 percentage and the highest number in more than a decade.
By all accounts, this year's percentage could be higher still.

In their most recent financial reports, Korn Ferry, CT Partners, and Heidrick & Struggles all reported increases in their search assignments. New engagements were 8 percent higher at Korn Ferry and Heidrick & Struggles. CT

Partners reported a 31 percent increase.
Each also reported growth — as high as 40 percent for CT Partners — in their search revenue.
Worldwide search revenue also is up, according to the quarterly report from

the AESC. For the July-September quarter, search revenue was 8.6 percent higher than in 2013. Even with the usual slowdown in the last quarter of the year, worldwide revenue for the search industry will top $11 billion this year.
"The correlation between economic conditions and executive search demand becomes stronger year by year, reflecting the volatility of corporate decision-making in our increasingly interdependent world," AESC President Peter Felix said in the trade group's third quarter report.
North America itself saw an 11.3 percent increase in searches, according to the AESC report.
Another sign of the growth in executive search — both retained and contingent — is the increase in agency workers. Agency owners have been adding staff at a steady pace since hitting a recession low of 26,100 workers in late 2009. In September, the most recent data available from the U.S. Bureau of Labor Statistics, there were 41,400 people employed in executive search in the U.S.
That confidence is being broadly felt by the industry. The public search firms told analysts they expect to finish the year better than last year. An unscientific recruiter poll on the Express Employment Services website has nearly half those participating saying they expect 2015 to bring "exponential growth." Just two years ago, fewer than a third of the participants said that.