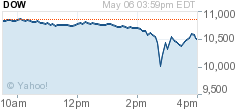 The ebbing tide of today's 1,000 point stock market drop took with it the publicly traded recruitment-related companies. Not even new, positive domestic economic reports spared them from the free for all.
Monster was off 3.93 percent; Manpower dropped 3.71 percent;  Taleo, Success Factors, and Kenexa, all HR tech providers, were down 5.56, 5.66, and 2.66 percent respectively.
Investors ignore the improvement in the number of new jobless claims or the 8 point jump in the Monster Employment Index in their worries over the international picture.
Fears that the Greek financial crisis will spread to other countries in the European Union sent the markets reeling. The Dow Jones dropped almost 1,000 points before recovering to close down 348 points or 3.2 percent.
Tomorrow, the U.S. Bureau of Labor Statistics will report on the U.S. jobs picture in April. Economists are expecting that between 180,000 and 189,000 jobs were added during the month. That's probably not enough to affect the 9.7 percent unemployment rate, which has been stuck since January.
On almost any other day, news that new claims for unemployment dropped again last week would have provided some market encouragement. With the positive ADP job report Wednesday, improvements in other indices, and the 6.4 percent one-month gain in the Monster index,  investors would typically have bid up the market.
Instead, the international financial crisis took center stage, obscuring the jobless claims report. Investors in recruitment-related stocks also appeared to ignore the news that worker productivity for the first quarter of the year, though stronger than expected at 3.6 percent, was a marked dropped over the previous three quarters. Bloomberg News suggested that declining worker productivity is another sign that hiring is starting to pick up.