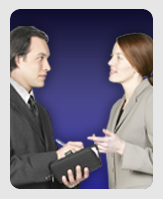 On the face of it, this title makes no sense. First, how could a passive candidate have multiple offers? Second, who cares? In today's troubled economic times, when we make an offer, it's accepted, no negotiations, no counteroffers, no competing offers. It's just accepted. Period.
So I could leave it at that, and make this officially the shortest article I've ever written on ERE in 10 years. But what's the point then? Under the low probability chance the market for top talent is finally starting to heat up a bit, recruiters might soon be faced again with the challenge of recruiting candidates with multiple offers. And, if not, they can bookmark this article for that exciting day.
So for recruiters who don't remember what it's like, and for those recruiters who are too young to remember the golden olden days when top candidate supply was less than demand, a little history is in order. Whenever the economy is expanding more than a few percentage points, labor shortages in certain job categories frequently occur. Under these circumstances, companies aggressively compete for this scarce talent by bidding up prices (i.e., salaries and signing bonuses) and increasing the speed of decision-making. In this hyper-heated market, mistakes are made, recently hired candidates are pursued by ultra-competitive recruiters who are paid for making placements, and hiring managers are pulling out their hair. For third-party recruiters this is what's referred to as "the good old days."
There are some things recruiters can do to minimize the bidding wars and increase their chance of landing the star players.
These recruiting strategies and tactics are useful whenever you're recruiting a top person who has multiple offers. This is more common during periods of economic expansion, but it's also quite prevalent whenever labor shortages by certain job classes exist. Under these supply/demand constraints, the idea is to present your position as the one offering the best career move, not the one that just offers the biggest comp increase. Of course, you have to prove it, but that's the whole point, isn't it?