Artificial intelligence is hot. It's difficult to go a week without commentary from the likes of Elon Musk, Bill Gates, or Mark Zuckerberg. Without a doubt, the machines are going to have a bigger and bigger role in our lives, and recruiting is no different.
Vendors such as Mya, VCV, Brilent, Crowded, and HiringSolved are all entering this brave new world in order to replace many of the monotonous tasks associated with hiring human beings. Hot on this growing trend, news this week reveals Entelo, a solution best known for identifying job seekers before they actually become job seekers by analyzing online activity, enters the AI party with Envoy.
"Today I'm excited to announce the launch of Entelo Envoy, a new technology that promises to change how recruiting teams fill their pipelines," said Entelo CEO Jon Bischke in a blog post. "We built Envoy after listening to the needs of thousands of recruiters and recognizing that one key need of recruiters stood above the rest: the lack of time to source candidates. Top-performing recruiting organizations know that passive candidate sourcing is a critical component of success. Yet, traditional sourcing approaches can take a lot of time, even with cutting-edge technologies like Entelo."
Here's how it works. Envoy scans an open job automatically by parsing the description, followed by an additional brief that the employer completes. Then the AI goes to work in the background, identifying candidates, and automatically reaching out to prospects, "leveraging data science and outreach best practices to ensure optimal engagement rates."
The company has even trademarked "Interested Candidates In Your Inbox," to support the process of delivering these candidates. Need more, there's also an explainer video.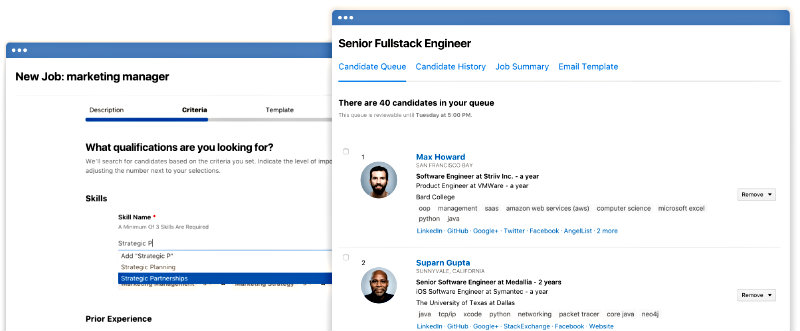 "Traditional sourcing takes a huge amount of a recruiter's valuable time," said Bischke. "Entelo Envoy is designed to automatically expand a qualified talent pool by uncovering passive candidates and convert them into active candidates. Entelo Envoy gives recruiters more time to focus on the higher touch and higher value-add parts of their jobs."
One could argue it took a little long for a technology focused company like Entelo to jump aboard the good ship AI, with at least one competitor, HiringSolved, being in the game for about a year now. Welcome to 2017, right? Not necessarily. We're in first-inning territory with AI, and it's unlikely consumers will think of Envoy as a product behind the times.
"HiringSolved's is focused on intelligent automation across all HR data sources types of candidate engagement, not just passive candidates," said Shon Burton, CEO at HiringSolved. "HiringSolved has had AI-based job-to-candidate matching functionality since 2016 and we're proud to say that we have many great success stories from customers on it's effectiveness. We've built on that technology in 2017 to include fully automated workflows which combine live data from the ATS, CRM, and HRIS to automatically tune our learning systems for higher predictive accuracy and to enable to applications like internal mobility and RAI, our intelligent recruiting assistant."
Bischke seems unfazed by the competition and instead sees a greenfield of opportunity for his company, especially when looking at the present landscape of acquisitions and uncertainty in the recruiting space.
"We try to focus mostly on what we do," he said in an interview with Bloomberg. "But from our perspective, there's just a lot of uncertainty in the market. Whenever you have acquisitions and consolidation, everyone's wondering what's next and LinkedIn has been bought, Monster has been bought. There's a lot of companies out there that are no longer stand-alone entities, and when that happens, it does create a lot of confusion. When that happens people start looking around and wondering, 'Who should I be working with?'"
It's also worth noting there are differences in the various players, regardless of when products are launched. Mya is a chatbot. Crowded revives old resumes in your ATS. And even HiringSolved doesn't do candidate outreach like Entelo does. AI will not be a one-size-fits-all product offering, but Entelo highlights at least one success story.
"Our hiring managers are ecstatic about the increase in our pipeline for our difficult-to-source positions," said Marissa Huang, a recruiter at Niantic Labs. "With Entelo Envoy, we've been able to improve our sourcing pipeline, saving countless hours each week."
"With Entelo's Envoy product, I experienced a problem every head of TA wants: More responses and phone screen than we could handle," said Hilary Clarke, head of talent acquisition at HotelTonight.
New products. New companies. Happy customers. It's all too comfortable, though, isn't it?
While it's fun watching the little guys introduce products that help automate the recruiting process, I have to wonder when the big boys will crash the party and drop their own artificial intelligence offerings. Once the likes of LinkedIn, with the help of Microsoft, Google, and even Facebook start adding AI into their hiring solutions, the hodgepodge of current players may simply fade into the abyss, much like the niche job boards and vertical search engines that came before them.