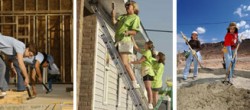 According to Moody's Analytics, nearly 148,000 tech jobs will be created in the U.S. by the end of 2011. Surprisingly, the biggest hiring challenge many technology companies face is that many of the industry's most talented professionals aren't actively looking for new jobs. Gone are the days of shuffling through hundreds of resumes of potentially qualified candidates. Today's savvy companies are proactively pursuing the industry's top talent on sites like LinkedIn, BranchOut, and ZoomInfo. Now more than ever, hiring managers need to be highly networked and engaged in their area of specialty in order to get to know the best of the best.
Developing strong relationships with passive candidates is particularly challenging because you must engage them in a dialogue they aren't necessarily interested in having. Creativity is king when it comes to designing your strategy for attracting passive talent.
Here are some techniques I have used to differentiate CDW's recruitment efforts, and engage the most talented passive candidates:
Establish a genuine relationship. Engaging in a dialogue with a passive candidate is an art, not a science. Be personal. Be engaging. Be brief. Before I even begin to craft an e-mail, I research the candidate through sites like LinkedIn to find out more about their professional experiences, educational background, hobbies, and philanthropic involvement. I try to find common ground and make the initial e-mail conversation all about them. For instance, if we have coworkers who went to the same university, belong to the same fraternity/sorority, or are involved in the same charitable organizations, I try to make these connections right away. While doing this, I focus on engaging them in the opportunity by the end of the very first sentence. Remember that your e-mail is just one among hundreds they receive each week.
Use a "human-interest" approach in all dialogue — in-person or on the phone. Once live communication has been established — either by phone or through a face-to-face meeting — uncover the motivations, aspirations, and professional job skills of the passive candidate. Focus on asking open-ended ice breakers that will allow the candidate to reveal their true self. One candidate I pursued was an active volunteer with Habitat for Humanity. Through my conversation, I was able to learn that the individual loved the camaraderie of the volunteer groups and felt rewarded after seeing a family move into a finished home. The individual's love of working in a team environment and drive to see challenging projects completed indicated that he might be a great addition to our field sales department — where teamwork and dedication are critical.
Know the job. If you do not have a solid idea as to the specific responsibilities of the position, a passive candidate will pick up on it. In hiring for field sales positions, my colleagues and I have spent a considerable amount of time with the field sales team to find out what characteristics and skills are needed to be successful in this role. In addition, I have also participated in on-site visits with our field sales team members to find out what our customers are looking for in an account manager. Taking the time to experience a position firs-thand gives you a solid idea as to what is needed for success, while also giving you an opportunity to gauge the culture of the particular department.
Love what you do. Passive candidates can spot a fake. You must constantly look for ways to become a passionate fan of your organization. Ensure that your talents and passions are aligned with your particular job responsibilities. In an ever-changing, highly-competitive profession, you cannot afford to become stagnant.
Over time, I have found that sharing experiences from my 13-plus years at CDW is a very effective way to convey my passion for the organization. People tend to remember the personal stories they hear. Sharing one's experiences also helps to establish a high level of trust with a passive candidate. A recruiter's ability to convey enthusiasm and establish trust is paramount.
Remember, there is a good chance that your next game-changing hire won't be found in the pile of resumes on your desk or in your e-mail inbox. By committing to a strategy and executing on these tactics, your organization can be well on its way to developing a tremendous competitive advantage and establishing a great environment in which to work.