Employee referrals and social recruiting, which already began melding through Jobvite, Cachinko, and other tools, are growing even closer as new vendors enter the field and corporations test how well their jobs spread on Facebook and other sites. Jobster has tried this all before, as did H3. But their mixed success did not mark the end of an era, but rather a foreshadowing of what was to come.
A New York startup called Referrio is quietly entering this niche. On that site, Cisco, for example, lists 11 jobs and is offering about $2,500 per job for people who fill the openings by spreading the word through social media sites or email.
Meanwhile, Virginia Mason Medical Center has set up a "grab this widget" tool for employees to share the organization's jobs. The Seattle-area nonprofit needs to fill a director of nursing informatics job, IT jobs for people with Cerner experience, and more.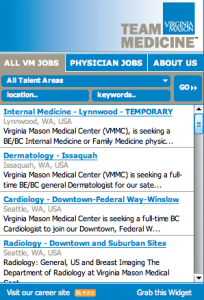 Bernard Hodes helped it develop the widget, which recruiters and some Virginia Mason employees are putting on their Facebook pages and elsewhere. But a big push to get employees to add it to their sites is yet to come. First, the center needs to set up a social media policy. "We're a little bit new to all of this," says strategic recruitment specialist Carol Altschul. "I think it's kind of happening a little backwards. The social media (widget) set up, then the policy created. Right now it's just kind of growing organically. We're getting our feet wet."
At Enterprise Rent-A-Car, employees are adding widgets about company jobs to their personal Facebook pages, and getting paid if the widgets result in a hire, which, I hear, a couple have. Hyatt is testing a widget developed by NAS; Hyatt employees will be listing Hyatt jobs on their Facebook pages and sending them out to friends via Facebook.
At Banner Health, the Phoenix and Western U.S. nonprofit, experienced nurses and occupational/speech/physical therapists are among the highest in demand. Michael Seaver, sourcing program manager, said there was "unreal" interest when the 36,000-employee organization moved to an electronic employee referral system two months ago. About 1,500 people referred candidates in about a month. This was not a social media campaign per se, but that's likely coming soon. Banner, with help from CKR Interactive, is working on how it'll incorporate its 16 Facebook pages, 16 Twitter accounts, and YouTube account into employee referrals. Banner was until recently in a transition phase, acquiring other organizations. Now, it is "focusing on the people we have," says Seaver, and will make it easier for those people to refer others.
One sign of the employee-referral times is that SelectMinds, a company mainly known for its work on alumni networks for corporations, is moving deeper into the referral world.
Michael Mallin, the SelectMinds VP of product management, believes that "innovation stalled" a bit during the recession, which "created an opportunity to do something quickly." That something is a tool that melds employee referrals with social media. Jobster, Mallin believes, had the right idea, but was simply ahead of its time, just before the real explosion in social media. He says that Jobvite (whose success with TiVo I wrote about in the Journal of Corporate Recruiting Leadership) has a good handle on small and mid-size companies, particularly those that want to use Jobvite as their talent acquisition system, but that SelectMinds' relationship with large firms, like the biggest accounting companies, will help its referral program succeed.
SelectMinds is planning on having a couple of its clients do a free beta of the referral product for two or three months, starting probably in July. For companies that pay, Mallin says it'll cost about $2,500 per month for companies with up to a few thousand employees, and higher for the largest firms. Pricing varies based on the number of people you make "referrers."
What happens with SelectMinds is that an automated (or manual, if a recruiter wishes to select some employees to send it to) email goes out to people who might be able to help fill a job. Let's say hypothetically we're talking about a software job at Nationwide, and that the job is in Dayton, Ohio. An automated email about the job opening might go out to 1) Nationwide employees in any region who are in IT jobs, and 2) all Nationwide employees in Dayton. The SelectMinds email allows employees to either email selected contacts on LinkedIn, Facebook, and Twitter to tell them about the job, or update their LinkedIn and Facebook statuses (and soon Twitter, just not on the demo I saw) with info on the job. The chain of link-forwarding gets tracked as it moves around online, and the employee either gets the whole referral kitty, or can share part of it with a second person, depending on how the company sets it all up.
The employee who's doing the referring can tell their company, via a short form, how well they know their friend, and what they think of them. The referring employee also gets emails notifying them if their contact has expressed interest in the job.
Meanwhile, recruiters view a dashboard listing how many times a job was referred, and how many applications came in for it. A recruiter can drill down and see who's referring who.
Mallin hopes the future versions — and he says SelectMinds hopes to release new ones monthly — are "more intelligent." For example of what he means, let's take that software job in Dayton. Mallin hopes that a later version will notice that a Nationwide employee may not be in the software field now, and may not even be in Dayton now, but the system knows through combing that employee's LinkedIn profile (if privacy rules allow it) that she used to work in the software field. Because she may have friends who still work in the field, she'd get the automated job notice asking for referrals. This smart marriage of referrals and social sites is where we're headed.