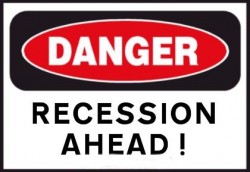 The financial markets are abuzz today over a Wall Street Journal survey that says economists now give the U.S. economy a 1-in-3 chance of falling into recession in the next 12 months.
According to the Journal, the odds are the highest since the start of the recovery and rose 4 percentage points since the August survey. In addition, the economists in the survey doubt that anything the Federal Reserve will do during its meeting next week will make a difference.
The Journal's survey follows a similar Reuters poll earlier this week in which a consensus of economists put the likelihood of recession at 31 percent. A similar survey in August put the chance at 25 percent.
The Reuters survey of some 70 economists also found them cutting their growth predictions to 1.9 percent in the current quarter and 2.0 for the fourth quarter. Previous surveys had them expecting 2.3 percent and 2.6 percent growth rates in the 3rd and 4th quarters respectively.
Almost as if on cue, the nation's two largest ports reported a slowdown in cargo during August. Imports fell 5.8 percent at the Port of Los Angeles and 14.2 percent in Long Beach over last year. Economists and Wall Street watch those numbers as an early indication of what retailers expect for the holiday season. August is when the first shipments of holiday merchandise begin to arrive, so a slowdown in imports may mean retailers are expecting slower sales this year.
Thursday's unemployment report offered little reason for optimism. Initial unemployment claims rose by 11,000 to 428,000 for the week ending Sept. 10. A year ago, the number was 450,000.
"It feels like a recessionary environment," Bart van Ark, chief economist of The Conference Board, told the Wall Street Journal. He put the odds of a recession at 45 percent, a signal event, the paper noted, since for the last 23 years, a downturn has followed every time The Conference Board's estimate topped 40 percent.
With the economy sputtering, corporate leaders are becoming ever more cautious about their hiring. Manpower's quarterly employment outlook predicted hiring in the 4th quarter would be slightly better than last year, but for the first time in just over two years, it will be lower than the quarter before.
Says Manpower: "The Net Employment Outlook for Quarter 4 2011 is +7%, up from +6% during the same period last year and down from the +8% Outlook during Quarter 3 2011."
What should HR be doing? In his HR Executive column, Professor Peter Cappelli, director of the Center for Human Resources at The Wharton School, recommends scenario planning.
"First, talk to whoever is in charge of setting strategy, goals, direction for the organization. Ask them what the two most important uncertainties are right now that will affect the future of the operation in the next year or so," he says. Then draw up a box matrix of the uncertainties and possible outcomes and "tell the human resource story associated with it."
Share it with senior management. By getting ahead of the curve, he says, "It demonstrates that you, as a leader, understand how to contribute to the strategy process."