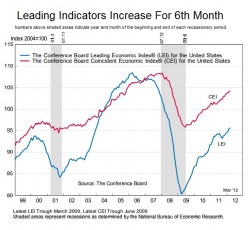 More evidence this week that the recovery in the U.S. is holding its own. The Conference Board reported that its Index of Leading Economic Indicators increased for the sixth consecutive month in March, a sign of "economic momentum."
"Despite relatively weak data on jobs, homebuilding, and output in the past month or two, the indicators signal continued economic momentum. We expect a gradual improvement in growth past the summer months," says Conference Board economist Ken Goldstein.
The LEI index is a predictor of future economic conditions, and though the rise in March was .3 percent, lower than the .7 percent in February, it points to continued improvement. A second index, measuring current economic conditions, also rose in March; the sixth consecutive monthly increase for the Coincident Economic Index. The .2 percent matched the February rise and was ahead of January's .1 percent increase.
"Taken together," says The Conference Board, "The current behavior of the composite indexes and their
components suggest that the expansion in economic activity should continue at a moderate pace in the near term."
However, other reports trumped the rise in the indicators, disappointing investors and leading to a down day on Wall Street.
Among the troubling reports was one showing the seasonally adjusted initial claims for unemployment was down slightly last week, though it was down less than analysts expected. The U.S. Department of Labor reported 386,000 new first-time unemployment claims were filed last week. That's only 4,000 less than the year's high set the first week in January. It was 11,000 more than the average of what economists surveyed by Dow Jones Newswires expected.
The other down measures were the number of home resales, which fell in March for the second month, and the Federal Reserve Bank of Philadelphia's general business activity within the factory sector fell to 8.5 in April from 12.5 in March.