It's not news to ERE readers that recruiting is a cyclical business, and that times are tough.
This morning, Indeed released data that they are calling Industry Trends, which compare the current number of online job postings in the United States today with the same data from a year ago.  It's no longer news that there's fewer jobs out there, but even with that in mind, the numbers are grim.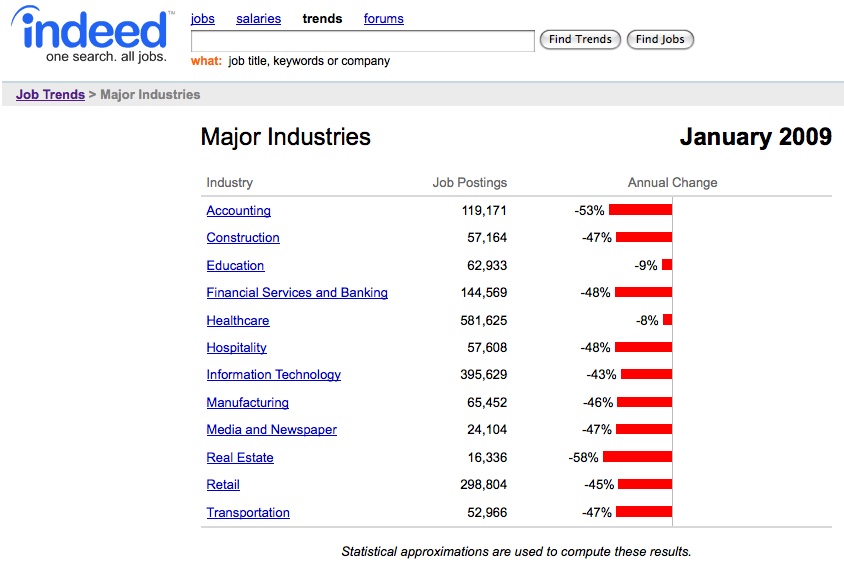 On the job seeker side, Google searches for the keyword "jobs" had a seasonal dip in December, followed by a huge spike in the new year. At one point in January, they were up over 50% over the historical average, an indication of just how many people are now looking for work.
The graph on the bottom of the Google Trends data represents media coverage about jobs, which has been on the rise since mid-2008.
All of the data above is backward-looking — it tells us what has happened in the past. What does the future hold?
Intrade is a online market that is used to trade futures on anything from who will be the next justice to leave the Supreme Court to which continent will host the Olympics in 2016. It harnesses the wisdom of those crowds willing to put their money where their mouths are in order to collectively predict the future.
Here is the chart for the Intrade futures on whether or not the U.S. unemployment rate will be higher than 9% at the end of December 2009.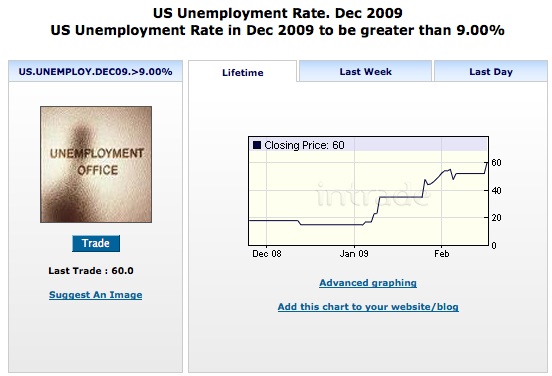 The market is now predicting a 60% chance that the unemployment rate will be over 9% by the end of the year, up from 7.6% today. At the beginning of this year, it was predicting a less than 20% chance — like the Google trends on job searches, it has spiked dramatically since.
Batten down the hatches.  It's going to get worse before it gets better.