Recently, I was talking with Charles, CEO of a small but rapidly growing company, about his success with talent acquisition. A fellow CEO had recently asked, "How can I always have the talent I need, when I need it, just like you?" Charles replied, "It's easy — just go back and start recruiting two years ago."
Charles makes a habit of keeping up with good people he meets who may not be a fit for his company now, but might be later. He also keeps up with all the "runners-up" — the candidates who came in second for an opening.
Building a relationship with candidates is going to be even more important in the coming years as the demand for talented people increases. I hear all the recruiters out there saying "But I'm working on 50 reqs currently and don't have time to do this." Charles' method is excellent, it's just not scalable.
For the past decade, my clients have primarily been early stage technology companies providing Software as a Service solutions for businesses. Most of these companies have limited financial resources and huge goals. Sound familiar? My clients face challenges similar to some we face as recruiters– and succeed. The way these SaaS companies use digital marketing to acquire customers can show us better ways to acquire candidates.
My clients cannot waste time or money on prospects who are not a fit for their product or service. Therefore, they must quickly identify their target market and how they can appeal to that market. Look at this pyramid graphic from Evolve Creative Group: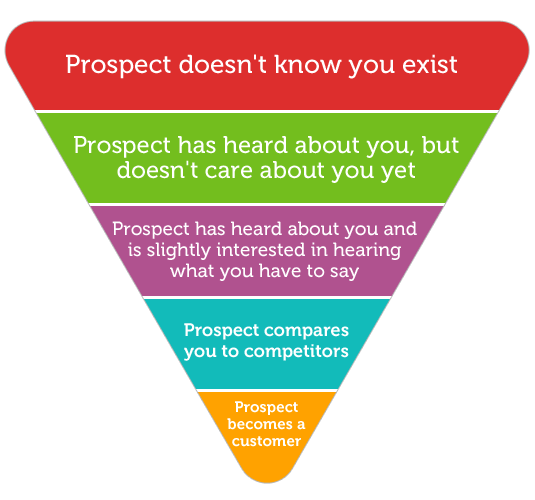 A "scalable, repeatable process" is the mantra of all my clients. They quickly develop a pipeline of viable prospects and continue to grow the size of that pipeline. Note: If you are recruiting for a new position each time, this method is not for you. However, if you regularly have needs for similar positions, following this example will help you develop a talent pipeline.
Determining Your Target Market
I've had the privilege of working with one of the best sourcers in the business for many years. Give her any assignment — no matter how difficult — and she would quickly come back with names. How did she do it? The same way that you will define your target market: analyze the position to determine the skills required, where those skills are in use, where people who have those skills "hang out," and then network within those groups. Each position may have a different target market and approach. Your criteria for each opening will be the start of finding your target market. You can interview your current employees to discover what they like, what they read, what events they attend, etc.
Look again at the graphic and substitute "candidate" for "prospect" and "employee" for "customer," and you have a good idea of the stages involved in building a pipeline of passive candidates.
The graphic at the top (attract, engage, nurture, invite, convert) shows the general accepted standard of stages in the sales process for SaaS companies.
Now, let's apply this to talent acquisition. In the spirit of "crawl before you walk, and walk before you run," the following is intended as a guide to getting started.
Attract — Becoming a Thought Leader
To get your target candidate pool into Stage 1, your company needs to position itself as a thought leader in your industry, or in the technology you use, or in the market you serve, or some other way. This can be done by having people in your organization publish articles, speak at events, host webinars or Meetups, or other public events. As people sign up for newsletters, attend your events, or download articles, capture their basic contact information and interests.
Engage — Beginning a Dialogue
The Internet provides the means for easy, efficient, and economical communications. Remember, we are using this to establish a relationship — it's not a transaction. Years ago, I heard "People don't care what you know until they know that you care." Initially, we will want to learn more about each person and their interests so that we may tailor our communications with them. Eventually, you may get to the point where every communication is individualized. Initially, we will need to be somewhat general.
Now is a good time to talk about using CRM (Candidate or Customer Relationship Management) software. If the sales department in your company is using a CRM (they probably are), you may be able to add a few licenses and use it. If not, don't worry — there are several free or inexpensive CRMs you can use, including: Insightly, Nimble, Zoho CRM, and Hubspot. You can even use Excel or MailChimp.
Nurture — Building a Relationship
How do you respond when you receive an unsolicited sales pitch that is for something you would never buy? That's how people feel when you send them emails about job openings outside of their interests. Amazon and Netflix are very good at using data to suggest products or movies you might like based on your purchasing habits and those of others who purchase similar things. This is our goal.
Initially, we will focus on making them aware of our company and brand. Begin by sending emails about interesting things happening in the industry. Then send emails about interesting things happening in your organization. Then send emails asking about their specific interests (this can include short surveys regarding information they'd like to receive and the desired frequency). This is known as the "rule of threes": curated content, created content, personalized content.
Most CRM software (including MailChimp) will show you how many people read your emails, how many clicked through links, and if any forwarded the email to others. The ones with the most activity are likely to be candidates at some time.
Invite — Asking Them to Join You
After you've emailed for a while, start including a link to learn more about your company. Don't list job openings. Offer them an invitation, e.g. "We're hiring great people. Want to learn more about working here?" That link should take them to a custom landing page on your website that describes what it's like to work at your company — preferably with some employee stories (video if possible). A link on that page takes them to your careers page. Don't try to rush this! Pushing a job too soon undoes all the hard work to date.
Convert — Candidates Become Employees
As I mentioned earlier, this is a guide to getting started. You can begin this process with a minimum of resources. Soon, you will have a pipeline of candidates ready to join your organization when you need them!
If you want to learn more about digital marketing, start with Hubspot's "The Beginner's Guide to Digital Marketing for Small Businesses." Think of your recruiting organization as its own company and how you will build a pipeline of leads (prospective candidates) for it. If you want to dive into a more advanced guide, try Ji-A Min's "Recruitment Marketing: A How-To Guide For Innovative Recruiters." She provides an extensive guide covering all the major topics.