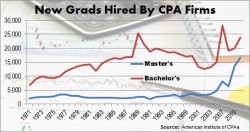 Demand for new accounting grads is expected to set a record this year, as CPA firms report plans to hire at least as many new accountants as they did last year, itself a banner year.
Just released by the American Institute of CPAs, its annual survey of accounting graduates and hiring says 40,350 new bachelor's and master's degree graduates were hired last year by CPA firms, a 22 percent over the previous year and the largest number of new grads to be hired since the AICPA has kept records.
While competition for this year's accounting grads is keen — the National Association of Colleges and Employers said demand for accounting grads would be second only to STEM majors — master's graduates will be courted like royalty. A decade ago, CPA firms hired 3,555 students with an accounting masters. Last year they hired 16,557. By comparison, bachelor's hires numbered 13,270 in 2003. Last year 23,793 were hired.
"Employers are increasingly looking to hire CPAs with advanced degrees, as they have the education and skills necessary to work in an increasingly complex, global business environment," said Jeannie Patton, AICPA vice president, academics, professional pathways and inclusion.
The AICPA survey, "Trends in the Supply of Accounting Graduates and the Demand for Public Accounting Recruits." also shows the dramatic rise in students graduating from accounting programs. In the 1971-72 school year, 26,000 accounting degrees were awarded. Last year 82,177 were awarded.
Starting salary for bachelor's-degreed grads is estimated to be about $53,300, up from last year's $49,700.