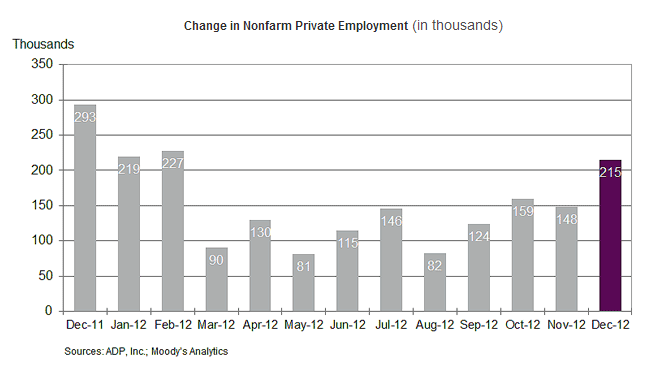 In a report buoying hopes for a strong jobs showing in the official government report out tomorrow, ADP this morning said 215,000 new jobs were created in December.
It's the largest increase in jobs reported by ADP, and its data partner, Moody's Analytics, since February when the company said 227,000 private sector jobs were created. The report also adjusted up its November job growth from an initial 118,000 to 148,000.
Mark Zandi, chief economist of Moody's Analytics, said "The job market held firm in December despite the intensifying fiscal cliff negotiations in Washington. Businesses even became somewhat more aggressive in their hiring at year end. Most encouraging is the revival in construction jobs, although the December gain was likely lifted by rebuilding after Superstorm Sandy. The job market ended 2012 on a more solid footing."
The LINE report, issued this morning by the Society for Human Resource Management, predicts hiring will continue in January. SHRM's report is based on surveys of HR managers. SHRM says 37.8 percent of the surveyed service sector firms plan to increase hiring this month, while 16.4 will cut jobs. The net 21.4 percent increase is more than three times last January's net 6.1 percent increase.
Manufacturing, which ADP says shed 11,000 jobs in December, is predicted by SHRM to significantly increase hiring in January. The LINE report says a net of 31.2 percent of manufacturing firms will add staff, the largest percentage of the last four years.
Recruiting difficulty in December, another element measured by SHRM, was more difficult for manufacturing sector recruiters, but substantially less difficult for the service sector on a year over year comparison.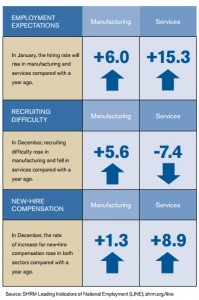 The monthly employment report from payroll processor and HR outsourcer ADP is closely watched by labor economists and Wall Street for clues to what the government may report. The Bureau of Labor Statistics will issue its employment report Friday. Economists are expecting it will show the economy added 150,000 jobs with no change in the 7.7 percent unemployment rate.
In advance of the ADP report, surveys by business reporting services had economists forecasting the private sector jobs to come in somewhere between about 130,000 and 140,000.
ADP's numbers said almost half the job gain — 102,000 — came from mid-size business, which ADP defines as those with 50-499 employees. Larger businesses added 87,000 jobs. The service sector added 187,000, with the trade/transportation/utilities services adding 53,000 during the month, the largest of any sector. Construction jobs grew by 39,000 positions, with professional and business services coming in at 37,000 new jobs.
ADP, which processes the payrolls for hundreds of thousands of businesses totaling some 23 million employees, has had a mixed record when it comes to comparing its numbers to the official government jobs report. The two reports have varied widely, due at least in some part to differences in collecting the data and crunching the numbers. In addition, the government includes job counts from state and local governments. ADP does not.
"In terms of implications for the payrolls report tomorrow, we tend to discount this a little bit, especially around the turn of the year, because ADP tends to be very volatile in December in particular," said Yelena Shulyatyeva, U.S. economist at BNP Paribas in New York.