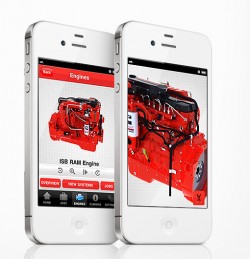 Regarding its new jobs app, Cummins says, "Finding a job has never been so much fun."
Not for me, really — as I've got the new Droid 4 phone, and Cummins' new application isn't available on Android yet. But iPhone users looking for jobs with the company can view interactive engines using the application. They can also watch videos, get custom feeds with the jobs they want, and more.
The company says that the engine-viewing part of the app, where you can zoom and rotate around the diesel engine, is aimed at everyone from middle-school students to high-school students to experienced engineers who might want a new career.
Cummins is an Indiana-based designer-manufacturer-distributor with about $18 billion in annual sales.