It's not quite October yet, but it's never too early to bring back candidates from the dead. At least that's what Crowded, a solution that looks to help employers use their existing talent pools that may have gone stale, is counting on with its latest release, Crowded Refresh.
Companies are historically bad at engaging with prospects who don't immediately fill a need, which has resulted in the infamous resume black hole. It's easy to argue that leveraging this funnel of contacts is something more companies should be doing. The Crowded Refresh looks to make this nurturing process easier, enabling employers to surface qualified candidates who otherwise would go undiscovered.
"Applicant tracking systems are full of outdated candidate information," said Crowded CEO and serial entrepreneur Howard Schwartz in a release. "Enormous investments have been made to attract these candidates to job postings; yet, if not hired for the specific position, the candidate data languishes in the ATS. Crowded Refresh enables recruiters and talent acquisition professionals to update resumes from candidates who have previously engaged with the employer brand."
Using machine learning and AI, candidates tagged as ideal are updated, then they are contacted via the Crowded chatbot. From that interaction, candidates are matched and ranked for each open job position. By doing this, Crowd believes it saves employers time, money, and effort, and provides valuable employer branding as dormant candidate relationships are reignited.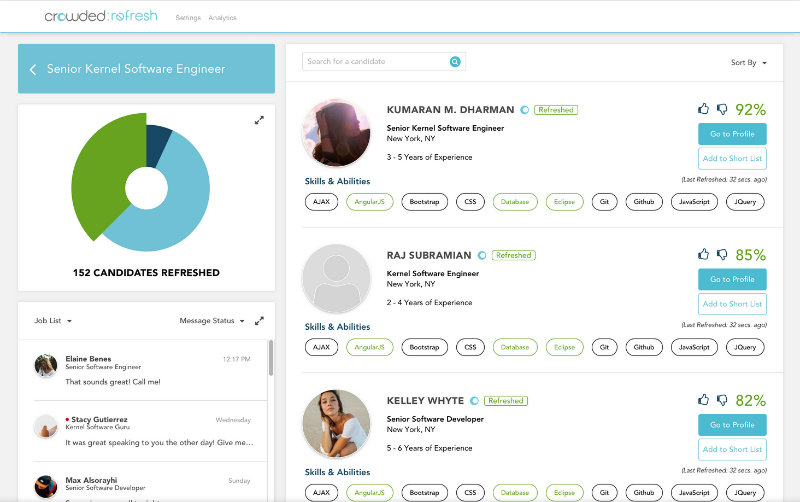 "The average company spends thousands of dollars per new hire and during this process they can acquire over 100 candidate resumes for each open position," said Schwartz. "That means over the course of a few years, a company can add tens of thousands of candidates to their ATS. Yet, when a new position opens, the process starts over again with acquiring new candidates.
"What about all of the candidates that were previously acquired? That data is old and out of date, and those candidates are not considered for new positions. Crowded solves this problem and allows companies to update and leverage this tremendous investment in their candidate database like never before."
Madeline Laurano, co-founder and chief research officer at Aptitude Research, shared, "Crowded Refresh is an innovative approach to maximizing the investment in candidate acquisition. Not only does it help recruiters rediscover passive candidates, it enables recruiters to easily manage the workflows once a candidate has been reactivated. It's a practical solution to a long-term talent acquisition challenge experienced by every company."
Crowded Refresh is available now. It integrates with ATSs such as Greenhouse, iCIMS, Compas, Workable, and Bullhorn. Other integrations will "be announced shortly." The company will also be demoing Crowded at the upcoming SourceCon event and the HR Technology Conference.
New York City-based Crowded was founded in 2015 by Schwartz, Mark Roth, and Joe Rubin. The company is backed by Tokalon Ventures, Elevate Innovation Partners, ARC Angel Fund, Gambit Ventures, Early-Stage.NYC, and several angel investors.