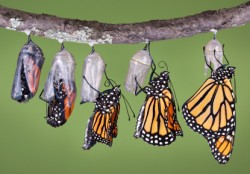 Change is a difficult thing. Oftentimes we are comforted by routine, but when situations arise that call for a drastic change, they are frequently met with resistance. With cutbacks and structural changes due to the recession and other factors, many organizations have had to undergo huge changes. As a result, effective change management strategies are in higher demand than ever.
Riviera Advisors consultant and former ERE expo chairman, Jeremy Eskenazi, joined us at at the ERE Expo 2009 Spring to moderate a panel discussing the challenges and strategies of change management. The panel also included Rodney Moses of Research In Motion/Blackberry, Vicki Perry of the Avery Dennison Corporation, and Aziz Chowdhury of the Baker Hughes Corporation.
Throughout the course of the session, the panel discussed the various changes they have encountered over the years, as well as what has worked and what hasn't. Rodney Moses brought up an excellent point about how issues can arise when the focus is placed on why the change must happen rather than how the change will happen. Moses emphasized that communication, role responsibility, and openness are crucial during the process.
Another major change that many encounter in their organizations is the change from a decentralized business model to a centralized one. Vicki Perry addressed some of the challenges and resistance faced, especially regarding role responsibilities. Perry found the "myth of the month" strategy to be especially effective, helping to dispel rumors about the new system.
Aziz Chowdhury spoke on the same subject, discussing some of the mistakes that were made and things that were overlooked during the change. He also stressed the importance of communication and dispelling rumors during the process.
The panelists were all in unison regarding the importance of communication during the process, as much of the discord is a result of false expectations. Watch these highlights from the presentation for more!