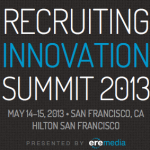 From the department of where-are-they-know … whatever happened to Mystery Applicant, winner of last year's competition between startups in the recruiting field?
If you don't know the company, it automates candidate feedback. So it asks job seekers what they think of your brand, whether they are satisfied with their experience as a candidate, their preferred interests/channels for job seeking and career content about your company, and more. One of its clients, G4S, has used the information it has gathered to improve recruiter skills, and refine its brand messaging.
Anyhow, back to what it's up to.
Mystery Applicant has been making sure it is optimized for tablets. It has added a hiring manager module, for hiring manager feedback. It has built "dynamic distribution" — to send different surveys to different subgroups. It's developing a self-service module for customers to query candidates in more detail — for example, to quickly test a branding message by slipping in a quick question to a survey. Mystery Applicant is building out its diversity reporting functionality.
One of its biggest challenges is that clients want the company to do all sorts of consulting once they see their candidate-experience results, but Mystery Applicant's Mike Cook says he doesn't "want to turn into a staffing company." Among other challenges, he says, are those of any startup: "Never enough customers, never enough money."