Sometimes the market just isn't ready for certain technologies. In other cases, consumers never really wanted it in the first place. For example, how many pairs of Google Glass do you see these days? CareerBuilder is hoping for the former with its latest mobile app release, which relies on augmented reality to wow consumers into reconnecting with the job board.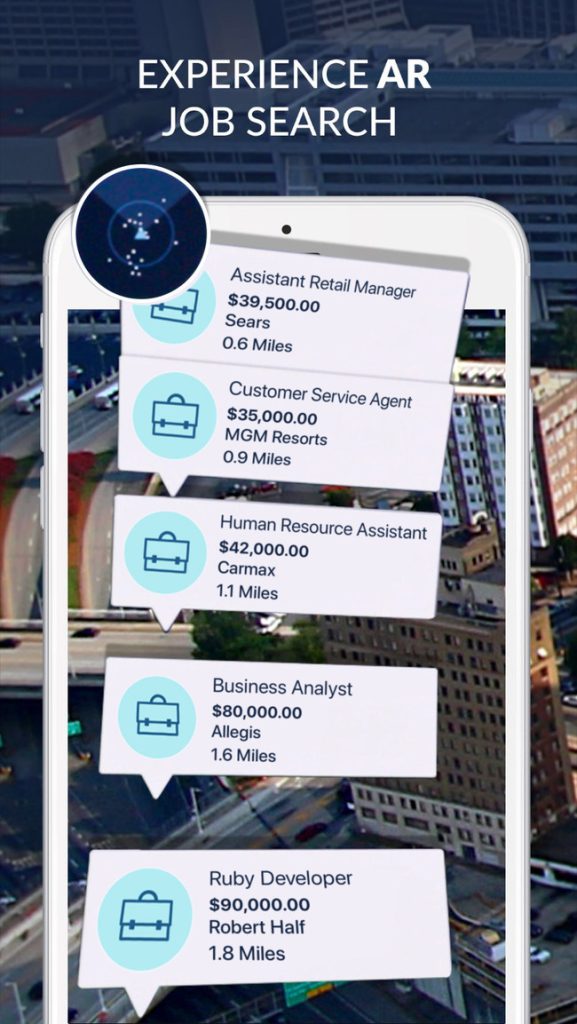 "CareerBuilder is tapping into this trend of digital nomadism and delivering a mobile offering for the employment space that is different than anything else on the market today," said Humair Ghauri, chief product officer at CareerBuilder.
Of course, there may be a reason AR is not all the rage in today's market. Industry veterans may remember one of the first iPhone apps for job search called Job Compass, which has since faded away. It used your location and mapped out jobs in a pushpin fashion. It didn't take off, and more well-funded competitors didn't copy the model, even though the technology was available.
And in other niches, where you'd think AR would be well received, it has struggled and failed to catch on with users. Popular apps like Yelp, Groupon, and Hotel Tonight don't use it, even though they are logical services to use AR. Just showing users a map instead of pointing their camera down Main St. seems to work just fine, thank you very much.
Where AR seems to be paying off is with apps whose sole purpose is to use the technology. Pokemon Go, where you pointed your mobile camera around and caught little virtual creatures, was once the hottest app on the planet. And Apple continues to bet big on augmented reality as well, and it's usually the smartest people in the room.
Maybe the key is having a gaming component, so it may be a good thing CareerBuilder will be adding a gamification element to the app soon. "To introduce an element of fun, the app will enable job seekers to earn points and potential rewards for taking different actions," the company said in a release. "Employees can share jobs at their companies with friends in their social networks and earn points along the way."
It's hard to get people to share jobs on social media, and I'm skeptical a point system will change that. Let's just go ahead and let time reveal the legitimacy of this feature.
Outside of augmented reality, the app works pretty much like other job search apps. Users can get jobs postings in list format or map format as well. CareerBuilder also touts the ability to easily post a resume via the app. Here's a video showcasing the main features.
Kyle Lagunas, research manager at IDC, is impressed. "CareerBuilder has put a stake in the ground in wanting to 'own' the mobile experience for talent acquisition and job search," he said. "This is a strategic move and differentiator in the midst of a mobile-first world and complex labor environment. CareerBuilder's investment in incorporating AI and machine learning across their solutions and within their mobile offering is designed to bring a richer, more intuitive experience that expedites results for employers and candidates."
If augmented reality's time is now, then CareerBuilder may be on to something. Competitors will follow its lead. If not, users will simply use traditional search results like they always have and probably just stick with Indeed.
The revamped app is currently only available on iOS. An Android version is coming "in the month's ahead."
"We are leveraging nearly 25 years of candidate conversion to help employers and talent connect anytime, anywhere with a deeper mobile experience," said Ghauri. "We also are helping to provide the modern workforce with the skills they need. Our goal is to mobilize every step of the job search and recruitment journey by creating a mobile revolution across our talent acquisition, employment screening and HCM software solutions."
It's worth noting that Monster is looking to gain a competitive advantage via mobile and invigorate its brand with younger users as well. Check out my posts on its new advertising and Monster Studios.