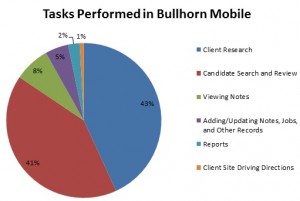 Search and staffing firms have been slow to adopt mobile recruiting practices that many of their corporate counterparts have been using in ever-expanding ways for several years, says new research about how independent recruiters use mobile.
Using both surveys and usage analysis of its mobile solution, Bullhorn found it's the sales teams that consider mobile access extremely important by a margin 24% greater than do staffing recruiters. The primary use most firms make of mobile access is sending and receiving emails, and online time and expense management.
"One-hundred percent of the staffing salespeople polled who spent more than half their time outside in meetings considered mobile access important, with 86% considering it "extremely important," reports Bullhorn in a new whitepaper, Mobile-Powered Selling for the Recruiting Industry.
The title neatly sums up the major finding of the research: the first and most frequent users of mobile access at search and staffing firms is by the sales teams. Four primary benefits are identified:
Better client services by having specific client information immediately available during a meeting;
More timely and accurate data when sales staff enters job orders on the spot;
Demonstrates firm's capabilities by being able to view and report candidate information and inventory while in a meeting with a client or prospective client;
Access to reports for sales leaders and firm executives.
"Clearly," says, the Bullhorn report, "A sales force able to fully tap their firm's recruitment software before and during client meetings gains significant advantages over their more limited competitors. Yet relatively few firms have fully taken advantage of mobile recruiting as of today."
Here, too, Bullhorn identified four reasons for the slow adoption of a complete mobile solution:
Limited (or no) mobile functionality provided by many existing ATS/CRM systems in use by search and staffing firms;
Usability – When some mobile functions are available in an existing ATS, it often is just a downsized version, rather than a fully mobile enabled system;
The mobile workflow isn't customized or otherwise doesn't match the processes the company has in place;
Inadequate training and user resistance.
Based on its study of how its clients use Bullhorn's mobile solution, the company said the bulk of the time is spent doing client research or candidate review. Together that accounts for 84% of the time spent by Bullhorn Mobile customers.
"About half of client research (20% of total usage) entails viewing individual client contacts," reports Bullhorn, "With the balance being client company records (11%) and reviewing open jobs and placements (8%)."
The whitepaper doesn't detail the candidate searching and review time, though certainly a substantial portion is coming from recruiters. However, the report notes, that "With the exception of executive search recruiters, most recruiters spend the majority of their time working from their desks and don't often meet with candidates face-to-face."
Still, says Bullhorn, "The flexibility mobile provides will bring more speed and collaboration to recruiting teams that take advantage of this powerful business tool."