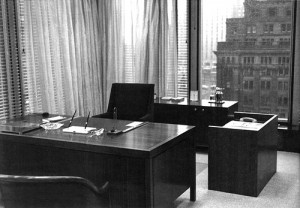 In August 2001, my dream of going back to work for the US Government fell through, and I was subsequently adrift without a backup career plan.  At this time I entered graduate school full-time with the goal of becoming better educated while trying to determine the next step in my working life.  In December 2001, while feeling the disappointment of not having a definitive career goal, I went to go see my parents' next-door neighbor, who just happened to own a search firm, seeking career advice.  I figured he could point me in the right direction or somehow give me a professional epiphany.  Low and behold, after several conversations I was offered a position in his firm.  In January 2002 I started my career as a professional recruiter.  I worked for this boutique search firm until November 2004 at which time I transitioned onto the corporate side of the "recruiting desk".
Why this transition?  When one works in a boutique search firm he/she tends to learn a lot about the crucial foundation of recruiting.  But, what a "young" recruiter fails to learn in a search firm is how a corporation works regarding the important synergy and integration between the corporate business and the role recruiting plays in its success.
I came to the conclusion that I needed to know this information and get this experience if I wanted to become successful and last long-term in this highly Darwinian business.
From November 2004 to April 2010 I worked in two contract recruiting roles and one full-time recruiting manager position on the corporate side.  On April 5, 2010 I launched my search firm, Fortis Recruiting Solutions, Inc.
Why did I transition back to the search firm world?  Corporate recruiting for me was a means to an end.  I knew early on as a corporate recruiter that I wasn't going to become a Director of Recruiting.  I always came to the same conclusion: I missed the "hunt" of our job.  Moreover, I've always wanted to run my own search firm and be the master of my own destiny.
I firmly believe that part of becoming a great recruiter is the ability to share pertinent information that helps others in our industry.  Therefore, I'd like to share some of the lessons and observations I've learned to date from both sides of the desk.
Search Firm – Part I
The gentleman who started me in this business, Charlie Diana, said to me after I first started in recruiting that each year you make it in this business is a milestone, and if you make it three years you'll never want to do anything else.  He was right!  Here are some lessons I learned on my first tour of duty in the search business:
This is an apprenticeship business.  You have to learn this business from an established and successful teacher/mentor.  If Charlie Diana hadn't been a great trainer I wouldn't be here today.
When you get into this business you need a love of money.  This doesn't mean being greedy or filled with avarice.  What I mean is that you want the fruits of your labor (i.e. BIG commission checks) to yield a better life for you.  Ever since I started in this business I have seen my standard of living increase substantially.
If you don't plan consistently each day and set attainable stretch goals each month/year you will flounder in this business, and so will your production.
You have to be mentally tough to be in this business.  We have all faced rejection and have seen significant deals fall through.  The real measure of a great recruiter is how willing they are to "get off the canvas" time and time again when they get knocked down.
30% fees and working directly with the hiring authority were the norm – at least they were when I first started in this business.
You have to be passionate about this business.  If you're not willing to invest in constant learning and training you will go the route of dinosaurs…extinction.
From 2002 to 2004 I had no clue what social media was.  I relied more on traditional methods of recruiting (e.g. cold calling into companies, leveraging print directories, etc.) and the influx of quality candidates that applied to my ads placed on Monster and other niche websites.
Corporate Recruiting
Working as a corporate recruiter was an eye opening experience.  Since I came from the search firm world it provided me with a solid recruiting foundation, but the pace and expectations of corporate recruiting were at times brutal.  Here are some lessons I learned during this part of my recruiting career:
I learned quickly as a corporate recruiter that the daily planning process from the search firm world was tossed out of the window.  Corporate recruiting is like juggling flaming chainsaws while trying to herd feral cats and concurrently being expected to put out a forest fire with a garden hose.  Corporate recruiting taught me how to manage my time more effectively, and it honed my multi-tasking skills because I had to adapt to multiple hiring manager requests.
Corporate recruiters usually have to carry an open requisition load of 20-50 positions.  They're likely

extremely

busy people.  So, be nice to them and be courteous and respectful of their time.  If your primary interface with your client is a corporate recruiter then e-mail is usually the best way to connect with them.  I rarely picked up my phone unless the call was from a hiring manager.  Also, ask to schedule time on their calendar to speak with them about the search you're leading for them.  Trust me…this tactic will rapidly endear you to them.
As a corporate recruiter, I learned effective client and account management skills.  When you're balancing 20-50 openings that means you're managing numerous hiring manager relationships and each of these hiring managers has a unique personality.  I learned to be an active listener and deliver to them what they asked for in a timely manner.  Execution builds and fosters trust.
I learned Human Resources professionals are very influential in the hiring process.  They often control the internal equity data that ultimately affects the offers the candidates we represent are given; moreover, they're often embedded in the business they support.  HR Managers will more times than not have the ear of the decision-makers in their business. A word to the wise: make partners with your HR contacts early and often because it will mean repeat business.
For nearly three years prior to starting my search firm, I worked as an onsite Recruiting Consultant for a Fortune 200 company.  I saw our recruiting team built up to over forty coordinators, recruiters, and managers with a large budget and a plethora of recruiting/sourcing tools.  I believe this will be a continuing trend for companies to build their own in-house "search firm" to reduce the use of third party vendors.  During my first year with this Fortune 200 company I saw the spend for search firms reduced by over 80%!  From this experience I learned that corporate recruiting teams will continue to aggressively and effectively invest more money on social media and employee referral programs while reducing their reliance on advertising and search firms.
Search Firm – Part II
In April 2010, I launched my search firm, Fortis Recruiting Solutions.  When I first started in this business we were in a recession, and this time around it's no different, except it has become tougher to win business.  Here are some lessons I've learned so far while being in business for myself:
I've learned to leverage every bit of information and every contact I've collected over the last eight years in order to make placements and stay in business.  The number of search firms has declined since the Great Recession hit, but I've come to realize this environment we're in now is more competitive than it was during my first stint on this side of the desk.
I've learned you still have to love making money, but I'm learning as a search firm owner that love of money and for a better life doesn't always equate to being a good businessman.  I've decided that I need as much formal/informal training and mentorship in this area if I truly want to grow my business, make it profitable, as well as make it sustainable for the long-term.
I've learned any way you cut it that this is a sales business.  Success will sprout from an investment in strategic/consultative sales training books, programs, etc.
I've learned that social media is here to stay and will continue to play a major role in our industry's success or decline.  I have already begun to develop and implement my social media strategy.  I'm also integrating this strategy with my ATS and other resources (e.g. LinkedIn, Facebook, my website, etc.).
I've seen fees significantly reduced since when I first entered in this business.  I belong to National Personnel Associates (NPA) and some of the US-based members are writing Job Orders at a 15% fee!  I believe this is a bad trend in our industry and it should be stopped for all of our benefits.  Our services are worth more than 15%.  We all know once you succumb to a low fee it's very hard to negotiate it back up to the optimal 25-30% range.
I've promptly learned that making 25+ Job Order cold calls a day doesn't yield much fruit in this environment.  What I have seen work for me is to make 10-15

strategic

Job Order calls each working day, but the key to each call is to know a lot about the target company/client and have a Most Placeable Candidate ready to market to the decision maker.  Potential clients get called by numerous search firms on a daily basis.  In order to differentiate ourselves we need to provide the potential client with something they do not currently have (i.e. talent to add to their team that isn't available to them on the job boards).
I've had friends of mine tell me all young men and women should do a stint in the US military.  Even though I'm a veteran of the US Army I don't know if I agree with this sentiment entirely because it's not for everyone for various reasons.  However, I think all recruiters would benefit from a two to three year stretch as a corporate recruiter early on in their career, because learning and understanding the nuances of both sides of the desk will ultimately yield a more thorough and comprehensive recruiting mastery that will beneficially serve them throughout their career.
---
this article is from the November 2010 print Fordyce Letter. To subscribe and receive a monthly print issue, please go to our Subscription Services page.