While most employers are familiar with Glassdoor and Indeed as platforms for submitting anonymous employee reviews, far less are familiar with Blind, a native mobile app that touts itself as a "real-time Glassdoor" in ads.
To get an idea of how popular Blind is, the company says it currently has 34,500 users who are employees at Microsoft, 7,800 who work for Google, and 16,800 at Amazon. The number of employees using Blind who work for Uber, LinkedIn, and Facebook is roughly 5,000.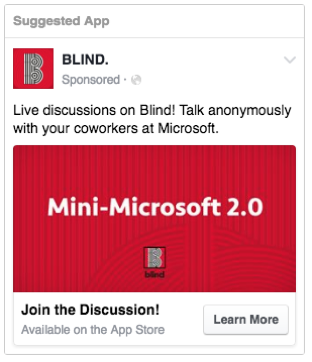 The history of Blind in the U.S., which got its start in South Korea, begins in the summer of 2015 but has just recently gained steam as tech employees have embraced the platform as a place for real-time, highly engaged, anonymous-yet-verified commentary. Users can comment on posts from any employee from any company on the app.
Up till now, critical mass has eluded the company outside the tech sector running from Seattle to Silicon Valley, but that may start to change with the company announcing that it will provide a desktop version later this month.
"To provide you with a richer community experience, Blind Topics will be accessible both on mobile and desktop/web starting November 20," Blind says in an app update. "We believe the community at large would benefit greatly if more people can read, join, and engage on Blind. For us, more users mean more conversations, ideas, and voice for transparency, awareness, and change."
The move will certainly introduce the app to a lot of people who hadn't heard of it before. If nothing else, casually visiting a web site takes much less commitment than downloading an app on your iPhone or Android device. It also means content currently unavailable to non-users that will be available for readership outside of the app. This also likely means content for Google to start indexing and making available in searches.
For a company that has taken $6 million in funding, the move to increase its user base through more channels was inevitable. However, the timing and how things will play out should be interesting. We live in an era where sexism, racism, harassment and bullying are particularly frowned upon. We also live in a time where anonymity has a limited shelf-life. Yik Yak, for example, met its demise in pretty short order. Secret too.
Add to the fact that Glassdoor seems to be in court constantly defending itself against orders to reveal the identity of commenters on its site, and you get a pretty volatile environment for Blind to make itself more available to the outside world. Additionally, recent new says it's looking more and more like employee identities may be protected less-and-less.
Throw in the fact that Blind makes users submit a work email address to confirm their account, and you have another major landmine. It would take nothing for a company to tell employees who use the site that they'll be disciplined somehow or even fired. Such a trend would cut off Blind's oxygen very quickly. At a minimum, employees just knowing that their company knows they use the service is potentially bad news for Blind's future.