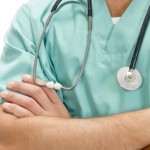 Faced with a growing need for doctors and a shrinking pool from which to hire, hospitals, medical groups and other healthcare providers are turning in record numbers to nurse practitioners and  physician assistants on a temporary basis to fill the gap.
Staff Care, part of AMN Healthcare, the nation's largest healthcare staffing firm, said its requests for temporary physician assistants (PAs) and nurse practitioners (NPs) soared last year, going from under 2% of its requests in 2010 to 10% last year.
"When hospitals and medical groups and others start using temporary providers in greater numbers, it generally means they can't find enough practitioners in those areas," Staff Care spokesman Phil Miller told the Dallas Business Journal.
His observations are dramatically illustrated in Staff Care's recently released survey of healthcare executives and locum tenens physicians, nurse practitioners, and physician assistants nationwide. The 2013 Survey of Temporary Physician Staffing Trends says:
Hospitals and medical groups are turning to locum tenens NPs and PAs for many of the same reasons they use locum tenens physicians – to maintain services and revenue and to fill-in until permanent candidates can be found.
With demand for these "advanced practice" professionals growing faster than schools can train them, the Staff Care report predicts a 20% shortfall in NAs and PAs in a dozen years. That will put even more pressure on the hospitals, clinics and medical groups that now routinely turn to locum tenens healthcare practitioners. Last year,  74% of medical facilities used temporary physicians to fill staffing shortages.
The report notes: "Historically, locum tenens doctors have been used to hold a place for ill, vacationing or otherwise absent doctors pending their return. Today, national doctor shortages have prompted hospitals, medical groups and others to use temporary doctors to maintain services in lieu of permanent doctors, who may be difficult to find."
In greatest demand are primary care physicians. Of the facilities that employed a locum tenens doctor, 35% sought a primary care physician. Next most in demand, cited by 31% of the responding facilities, were psychiatrists and other behavioral health physicians. Much further down the list were hospitalists (19%), surgeons (12%), and oncologists (11%).
Reported in the survey as part of the "physician" locum tenens counts were NAs and PAs, both of which were used by 5% of the responding facilities. At the time the survey was conducted — October through the end of January 2013 — 8% of the facilities said they were looking for nurse practitioners.
By a large majority, hospitals. clinics and other healthcare administrators say it's not gotten harder to find locum tenens physicians; only 14% said it has, compared to the 70% saying its the same. But the percentage of those using four or more staffing firms to fill their needs grew from 16% in 2011 to 22% last year.
In choosing a locum tenens firm, the most important factors are the quality of the candidates (78%) and availability (66%). Cost, cited by 47% of the responding administrators, was third, followed by customer service (45%). In hiring a candidate, 89% said availability was "very important"; training was cited by 71% as "very important"; and, 68% said its was cost that was "very important."
Practitioners, too, were less concerned about pay in choosing an agency to work with than they were in the location of the available jobs, and the firm's customer service. Pay was cited as a factor by 45%, while the other two criteria were cited 65% and 56% respectively. The majority of candidates (74%), nearly all of whom had at one time held a permanent position, were not looking for permanent work. Temporary work appealed to 81% of them for the freedom and flexibility it offered. Only 20% cited it being a path to a permanent job as a benefit.