There's an interesting discussion going on over at the Video 2.0 for Recruitment blog about the U.S. Army's $33 million investment in a recruiting video game.
Ernest Feiteira picked up on an item I posted and started a conversation about the value of such recruiting tools. A couple others chimed in about the ROI, something I'm looking into for a future article.
At this point in the discussion, there's no resolution to the question of how you would calculate the ROI.
However, Down Under, the Aussies must believe that outsourcing their military recruiting pays off because they have been doing it for some years. I know that because I talked with a Manpower spokeswoman about a press release announcing that the Milwaukee firm just won a $200 million recruiting contract from the Australian Defence Force.
In the release, Commodore Tim Barrett, director general of defence force recruiting, is quoted saying: "Manpower's capability in managing and delivering large-scale and complex recruitment services is necessary to attract the calibre of military recruits that we are looking for. The breadth, nature, and complexity of this recruitment program can be considered critical to national security."
The nation of 21 million people has an enviable problem. Its unemployment rate has been declining for years and is somewhere around 4 percent for 2009. (Incidentally, the Aussies think that's a recession.) Even though its total military force is only about 53,000 active duty, the military has been hard-pressed to find enough volunteers to fill its ranks, especially when it comes to certain types of jobs that are in demand in the civilian sector.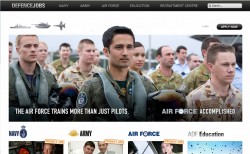 The problem is so acute that a newspaper analysis a few months ago reported the Navy didn't have enough submariners to staff its six submarines.
"By any measure," says the report in the Australian, "the latest figures on recruitment from the Defence Department make for depressing reading."
Manpower will employ 300 people to manage what it's calling the "largest and most complex" RPO project in the world. It's an end-to-end recruiting contract, that includes marketing and promotion up through onboarding.
The transition is already underway with the official launch set for February. Incidentally, it's worth taking a look at the ADF recruiting website. The videos may not be as action-packed as some of the U.S. Army's, but the ones I watched give you a pretty good idea of the nature of the jobs the military is looking to fill.