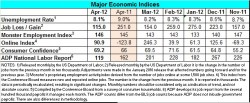 April's jobs growth fell below expectations, coming in at 115,000, the lowest since October, said the U.S. Department of Labor in its monthly report out this morning. Most surveys put the average of economists' estimates in the 160,000 range.
The report also showed the unemployment rate dipping from 8.2 percent to 8.1 percent, mostly due to workers leaving the labor force.  The share of Americans now in the labor force is at the lowest level since 1981, the New York Times reported.
However, the total number of unemployed Americans is 12.5 million, down about 1.3 million in the last year. Long-term unemployed (more than 27 weeks) accounted for 5.1 million of the unemployed, or 41.3 percent. Another 7.9 million are working part time because they can't find full time jobs.
The numbers offered more evidence that the becalmed recovery isn't about to spark, but neither is it about to slip backwards. In releasing its initial April estimates, the government revised upward the job number for February and March by a combined 53,000. That put the average monthly growth since January at 201,000 jobs, more than half again the average of the same months a year ago.
"We're still growing just gradually," Nigel Gault, an economist at IHS Global Insight in Lexington, Massachusetts, told Reuters. "Hiring is coming back into line with what you would expect with sluggish growth."
"It's a pretty sluggish report over all," said Andrew Tilton, a senior economist at Goldman Sachs.
Governments continued to shed jobs, losing 15,000, offsetting the 130,000 private sector jobs added in April. (ADP earlier this week, predicted the economy added 119,000 private sector positions.)
Among the big gainers was the business and professional sectors, which includes staffing and employment agency hiring. Temp hiring continued its strong hiring, adding 21,000 new positions. The professional and technical sector — legal services, accounting, computer systems, engineering, and others — added 27,500 jobs.
Retail added 29,300 jobs, mostly in general merchandise stores; hiring by hotels, motels and food and drink establishments increased by 26,700 positions.
Manufacturing showed strength, adding 16,000 jobs.
The biggest loser was transportation and warehousing, off by 16,600 jobs. Other sectors showed small losses (construction was down by 2,000) or were unchanged.
In April, workers on private nonfarm payrolls averaged 44.5 hours unchanged from March, though manufacturing workers averaged an extra .1 hour to 40.8 hours, and factory overtime rose by the same amount to 3.4 hours.
Average hourly earnings for all employees increased a penny to $23.38. Over the past 12 months, average hourly earnings have increased by 1.8 percent.