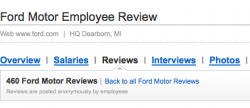 Exactly three years ago employment-branding expert Dr. John Sullivan published the insightful: "Your Employer Brand is No Longer Owned by Your Firm" and challenged practitioners to recast themselves as influencers, rather than controllers, of employment brands.
No doubt this wisdom extends to brands of all types, but for most people employment is their most frequent "transaction." Courtesy of new media, brand control is now firmly within the hands of consumers. Current, former, and prospective employees have multiple online means to share opinions and experiences, which combine to form a collective perception about "What it's really like to work there." Employer/employee review has been for some time a reciprocal aspect of the recruitment process.
Since Dr. Sullivan's article, Facebook and Twitter have each cemented their place as the dominant players in the social media and micro-blogging spheres respectively. However it is the rise of websites (in full disclosure, mine is of course one of those sites) providing anonymous and authentic workplace reviews and freely advertised jobs that is the strongest emerging trend.
Pioneered by San Francisco's Glassdoor in 2008, North America has seen a steady stream of new entrants to this social media space welcomed by active and passive job seekers determined to "look inside," to research a prospective employer, before making a critical career move.
So does this trend pose an opportunity or a threat to recruiters and employment branding devotees?
Opportunities
Real-time visibility. Conversations about your workplace are already happening — you just can't hear them. Having visibility to the candidate market's perception provides powerful feedback to best align your employment brand with the business strategy.
Authenticity. Participation in dialogue about your workplace reinforces the fact that you're prepared to listen and projects your organization's authentic desire to be a great place to work.
Cost of hire. Many participants in this space will be able to run basic job ads for free with premium solutions available for "hard to source" campaigns. Overall cost to hire should be significantly lower.
Open platform. Employment/review sites will often link applicants directly to your own career and social media sites to provide your intended brand experience, not the one offered by traditional job boards.
Reduced staff turnover. Informed candidates make better decisions and employers get a better fit.
Threats
Content moderation. Both you and the platform should review content regularly to ensure that it's neither spurious nor offensive. While you're unlikely to be able to screen reviews before they're posted, you should be able to "flag as inappropriate" those that breach the site's review guidelines and have them removed. Generally strong opinions are OK, but venting is not.
Ivory tower mentality. Ignoring negative and even positive reviews risks creating a perception that you're not prepared to listen and engage.
From a candidate perspective, job search engines with workplace reviews provide an information-rich experience and are a natural extension to well-known sites like Tripadvisor and Eatability, albeit with more at stake than a below par dinner!
For practitioners, opportunities abound to enjoy a greater level of transparency and engagement with stakeholders, while credibly influencing your employment brand and reducing sourcing costs.
Don't be late. Move with the trend.