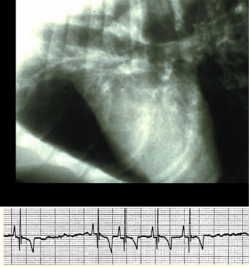 I've mentioned before that recruiting departments are testing the use of games and contests on Facebook as an alternative to their career sites. Here's another example: a big animal-hospital chain, VCA, is running contests on Facebook to diagnose animal ailments, hoping to generate traffic to its Facebook careers page and build up its database of job candidates.
This latest contest ends Friday, May 20, and involves a coughing, 7-year-old, miniature poodle.


You're given some info on the poodle's condition, and are asked to give a diagnosis. Five of the people who enter will be chosen to win a book called "Cherished: 21 Writers on Animals They Have Loved and Lost." The preface to that book was by Dr. Robert Goldman, who works for a VCA hospital.
VCA has run a contest like this before, a couple of months ago. In case you're curious, that one involved "vomiting and small bowel diarrhea on and off for the last three months … the pet developed acute lethargy and collapse associated with a recrudescence of vomiting."
It got 116 submissions from vet students. So far this time, there are 41 entrants, but the contest question is tougher. Perhaps "a little too hard," says Janine Schaedler, the director of recruiting and professional relations. So far, the contests, she says, are being used to drive interest in VCA's Facebook careers pages. VCA is capturing people's contact information, of course, but hasn't yet marketed careers to them.

Partly, that's because thus far this has been a test. Come this fall, with the new school year, Schaedler says she'd like to run the contests either monthly or every other month. And, she's hoping to run contests between schools, for them to compete against each other and when prizes. Eventually, she says, she'll ask contest-entrants who've entered their contact information in VCA's database if they'd like to receive information about jobs and careers in the veterinary field.