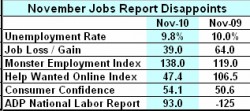 After three months of holding steady, the U.S. unemployment rate took a surprise jump last month, rising to 9.8 percent. It had been at 9.6 percent. At the same time, only 39,000 new jobs were added during November, far less than the expectations of most economists.
A Reuters survey of economists prior to this morning's report from the U.S. Bureau of Labor Statistics put the average job growth prediction at 130,000. A Marketwatch survey said the average prediction was 155,000.
The November labor report is likely to depress markets today, which had been primed for good news after a week of positive economic news. On Wednesday, the ADP National Employment Report, said the nation added 93,000 private sector workers to payrolls during November, the largest increase in three years. The BLS said 50,000 private sector jobs were added. Cutbacks in government jobs reduced that by 11,000.
Particularly discouraging was how widespread the job growth weakness was. Manufacturing, retail, construction, government, and finance all showed declines. IT registered an anemic 1,000 new jobs. The only significant growth came in health care (up 19,200) and temp work (up 39,500).
One of the grimmer statistics in the BLS report is the number of long term unemployed. Of the 15.1 million unemployed workers, 6.3 million have been out of work for more than six months. Not counted as unemployed, because they didn't fit the specific criteria were another 2.5 million, an increase of 200,000 over last year.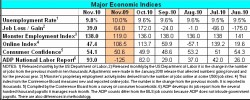 Another 9 million Americans are working part time because they can't find full time jobs.
One positive in the report: The number of jobs created in October was revised upward from 151,000 to 172,000, and the September numbers were revised from a loss of 41,000 to a loss of 24,000.