Forbes recently conducted a study on the best small American cities for business and careers. Traditionally, companies (in particular large ones) tend to headquarter themselves in major metropolitan areas such as New York City, Houston, Chicago, and Los Angeles. But with costs like taxes and office space on the rise, there are other thriving cities across the US for one to consider when either opening a business or seeking a lucrative career.
Forbes determined the best small cities for business and careers by looking at metropolitan statistical areas with populations under 245,000. There are 184 in total. Twelve factors were considered, including costs (both living and business), job growth (past and projected), income growth, educational attainment, and projected economic growth. Other factors included quality of life issues like crime, cultural and recreational opportunities, and migration trends. Finally, subprime mortgages were considered as well as the presence of highly ranked colleges in an area per Forbes' annual college rankings.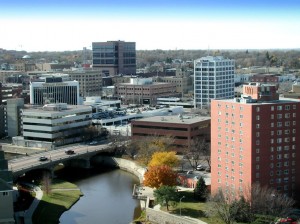 The top 25 best small cities for business are:
Sioux Falls, SD
Iowa City, IA
Manhattan, KS
Bismarck, ND
Logan, UT
Auburn, AL
Bend, OR
Columbia, MO
Fargo, ND
Morgantown, WV
Rapid City, SD
Lafayette, IN
Waterloo, IA
Sioux City, IA
Dubuque, IA
Bloomington, IN
Ames, IA
Charlottesville, VA
Corvallis, OR
College Station, TX
Lawrence, KS
St. George, UT
Santa Fe, NM
Greenville, NC
Billings, MT
A common area for most of the top cities is education: "These metros are all home to top-ranked colleges that churn out a steady crop of highly educated labor." They also share some similar characteristics like business costs and crime rates that are both well below national averages for all of the listed cities. For any recruiters who might have been considering an office relocation, any one of these cities can offer you an ideal opportunity to lower some of your overhead cost while still maintaining quality of life for you and your family.
Based on these findings, the Midwest looks pretty good right now, wouldn't you say?